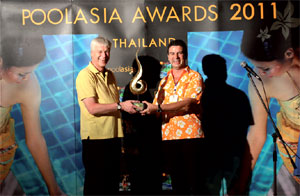 Martin Woelk and Josef Conrad
The first POOL ASIA EXPO & CONFERENCE EXHIBITION took place in Phuket, Thailand, from 4 to 6. March, 2011. Many leading manufacturers took part in this event as exhibitors including firms from Germany, Australia and Thailand.
Tintometer GmbH, known for its range of water analysis instruments and reagents under the trade-name Lovibond®, was selected for the POOL ASIA AWARD 2011 in recognition of the company's 15 years of continuous contribution to improvements in water quality in pools & spas across South-East Asia.
The award was presented by the organiser of the event, Dr. Josef Konrad to Martin Woelk, Sales Director of Tintometer GmbH.