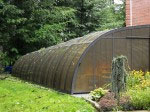 As you most probably know there was a terrible hurricane hitting East Coast of USA in August. As of Sunday morning August 28 2011, the western edge of Hurricane Irene officially made landfall near Little Egg Inlet, N.J., continued to march northward right along the Jersey shore. This was the first hurricane to have made landfall in New Jersey since 1903!

It will go down as one of the most damaging storms to hit New Jersey in a century, if not in recorded history!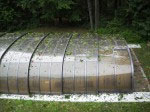 The state's rivers, swollen by Irene's relentless downpours, began spilling their banks Sunday, inundating backyards and basements, major highways and downtown streets. Many waterways were still rising, suggesting the worst is yet to come. Even as 1 million displaced residents began streaming back to their homes along the Shore, tens of thousands of people began evacuating inland flood zones, a vast expanse stretching from the state's northeast corner to Trenton.
In all that misery we can find one tiny positive thing there – a Laguna enclosure from IPC which survived Irene devastation in South Brunswick, NJ (USA)!

Location: South Brunswick, NJ
Map: http://www.mapquest.com/maps?city=South+Brunswick&state=NJ