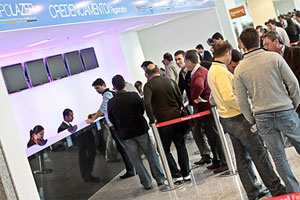 EXPOLAZER – 18th International Swimming Pool, Spas and Leisure Living trade fair, held August 3-6, closed its edition with great potential for the next editions, mainly regarding the profile of the new exhibitors.

According to the sales manager of Francal Feiras, Lucia Cristina de Buone, visitation was highly qualified and significant: "The average number of buyers in relation to the last edition held in Sao Paulo in 2009 was 50% greater," she said.

In a context where Brazil is the second largest swimming pool market in the world, with more than 2 million units installed (source: National Association of Swimming Pool Manufacturers and Builders – ANAPP), approximately 20% of the R$ 4.5 billion that this sector generates originates at business conducted during Expolazer. And precisely to monitor these market trends and needs, Expolazer has assumed a key role, as a key player in the field of architecture and decoration. "This year we invested heavily in the valuation of architects, engineers, interior designers and landscapers. In addition, the fair also featured a presentation of decoration trends as a model for retailers and consumers, so we plan to grow this area a lot in the event," said the Francal manager, backed by the numbers themselves: "We had a 35% increase in the presence of these professionals, which signals that we are on the right track," she says confidently.

For the president of Francal Feiras, Abdala Jamil Abdala, this success also extends to the realm of business: "Expolazer not only fulfils its role to generate business, but also monitors the evolution of a sector that is not limited anymore to just swimming pools, but involves everything that the concept of leisure adds. Proof of this is the success of Espaçolazer (Recreational Space) and how all of this tends to be converted in business at an event like this", he says.