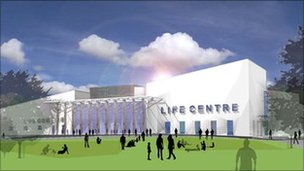 The new £46.5 million Life Centre leisure facility in Plymouth, Devon, is due to open in February 2012 after the winter weather of 2010–2011 delayed the project.

Featuring one of England's few Olympic-sized swimming pools, the Life Centre was originally due to open in the autumn of 2011, but poor winter weather and the need to move a water pipe have been blamed for the delay.

The construction company building the centre, Balfour Beatty, is due to hand over the building to operator Sports and Leisure Management (SLM) after Christmas.

Olympic teams from Canada and Lithuania have selected the Life Centre for their pre-2012 Olympics training camp.

For more information, visit www.plymouth.gov.uk/lifecentre.