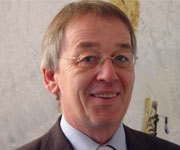 Dieter C. Rangol, Managing Director of bsw (Association for Swimming Pools and Wellness), says: "Private pools used to be considered decadent energy hogs, but today's state-of-the-art accessories allow private pools to be operated in an energy efficient manner. It's possible to swim for a cost of only three Euros per day." From 26th to 29th October 2011, aquanale, the International Trade Fair for Sauna. Pool. Ambience, will showcase the latest trends from the swimming pool and wellness sector.
Enjoyment and responsibility

Growing environmental awareness has also transformed the market for swimming pools. With demand for energy efficient solutions on the rise, resource-conserving technologies are extremely popular. The fact that using the sun's heat for free is currently. At aquanale a company will present, for example, a garden shower that uses water heated only by the sun's rays.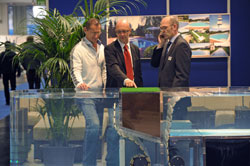 "Swimming pool covers ensure the heated water remains comfortably warm, while helping to achieve energy savings of up to 80 per cent," explains Bert Granderath, Managing Director of grando GmbH, which specializes in roller pool covers. At aquanale the company will show that covers can also be used to generate energy. The products feature special solar profiles that absorb the sun's warmth and transmit it to the water in the pool. "If you regularly cover your outdoor pool, you can reduce CO2 emissions by around 12 tonnes during the bathing season from May to September. If no covers are used, around 1,200 square metres would have to be reforested to offset the emissions," says Granderath.
Comfort fit for a king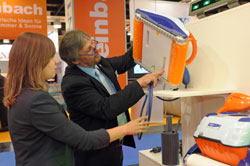 The overall trend is towards more convenience and comfort in general. Automatic pool cleaning systems, for example, are becoming more widespread. More than ever before, people want to get everything from a single source. This assessment is also confirmed by Rolf Petersen, Sales Director of SSF Schwimmbad GmbH, which has joined up with the sauna manufacturer Klafs GmbH & Co. KG to offer complete solutions for swimming and sweating.
Splendid, not pretentious
The simple, elegant look is now in demand. Products in the swimming pool sector today are characterised by minimalist styles and clear lines. And natural colours are gaining in popularity. The aim is to make the outdoor pool part of its environment, and to integrate it into the garden's shape and colour palette. "The nature theme runs like a common thread throughout the product ranges", says Anja Gruber, Marketing Director of Schunk Interieur GmbH.

Natural pools
No longer in its infancy, the swimming pool sector's "organic product line" is now providing nature lovers with alternatives to the traditional pool. Swimming ponds and natural pools make partial or exclusive use of biological water treatment systems. In addition to an area for swimming, they feature a plant-covered "regeneration" area for the natural treatment of the water. What that looks like in practice will be demonstrated at aquanale by the Deutsche Gesellschaft für naturnahe Badegewässer (German Society for Near-natural Swimming Facilities).
aquanale offers us the opportunity to bring conventional pools together with swimming ponds and natural pools.
Tried-and-tested and alternative methods
"Chlorine is still a very popular means of treating water, but we also offer alternatives, and active oxygen, biguanide and bromine are part of our standard product range," explains Christian Planner, Marketing Manager of Bayrol Deutschland GmbH. And UVION GmbH, Chemnitz, offers products that combine UV treatment with copper ionisation.
Sauna, salt and mud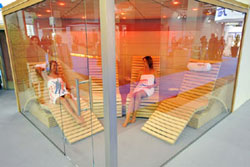 According to Herbert Nonnenmacher, Managing Director of the sauna manufacturer Röger: "saunas primarily used to be places for keeping people over 50 fit, but today they are also very popular among younger people. Pure functionality is being replaced by design and comfort. The dominant features include lots of glass, high-quality construction materials and state-of-the-art interior designs that meet ergonomic requirements." "Various alternatives to "plain" sweating have been developed. "Sweating and salt is a healthy combination," explains Rainer Rieger, Managing Director of WDT Werner Dosiertechnik GmbH & Co. KG. To clear the lungs and alleviate skin complaints, WDT uses a special metering station for spraying brine solutions, which creates a salty marine-like climate in the steam cabins.
Digitisation breakthrough
Dietmar Rogg, Managing Director of Schmalenberger GmbH & Co, KG says: "while on the road, smartphone users can now heat the sauna to the operating temperature, simply check the water values, or switch on the swimming pool attractions — all that is no longer pie in the sky, it's for real."
In view of the current trends in the swimming pool and wellness sector, aquanale will certainly once again feature exciting and pioneering new products in 2011.
On the basis of this fact, Rangol concludes that "although the sector itself is limited in scope, one can't say the same about its potential for innovation."