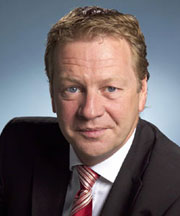 During the European press conference in connection with aquanale Cologne 2011, 8th June 2011, in Vienna, Austria, Bert Granderath, Vice-President, Federal Association of Swimming Pools and Wellness (Bundesverband Schwimmbad & Wellness e.V. (bsw) and the European Union Of Swimming Pool and Spa Associations (EUSA), gave a rather positive overview of the German market of swimming pool and wellness. Here is an extract.
"The economic crisis has not affected us as badly as was feared. Germany has emerged from it mostly unscathed and is looking ahead to the future with high expectations. This particular applies to the swimming pool industry, which in addition is benefiting from the following developments and trends:
Firstly: the purchasing power of private households is increasing.
Secondly: the German population has savings of around 93 billion Euro.
Thirdly: quality is asserting itself. Whereas the Germans used to be regarded as panic savers and penny-pinchers, today they are quality-conscious and are also prepared to spend good money on good products.
In addition our sector has already set the course for its long-term success at an early stage.

Because we have not restricted ourselves to one target group, but instead developed offers for all age and social groups. Which other sectors have already opened up to such a wide extent?
Of course customers' wishes change during the course of time. Whereas functionality used to be at the forefront, today design is in demand. In this connection the sauna cabin has moved from its place in the cellar. It has advanced to an eye-catcher and is making inroads into the central living area.
We can keep our fingers on the pulse of time because our sector mostly consists of medium-sized companies and for that reason we are extremely flexible.
In this connection we already responded to the increased environmental awareness years ago with energy-efficient technology and product innovations.
Homing is the new living trend, which makes people's own home the social focus of their lives. People invite friends round for a meal, cook together and watch films.
In this context the garden is increasingly becoming an extended living room. Here you can enjoy the first rays of sunshine and usher in the barbecuing season.
What is better suited to upgrading your own green oasis than your own swimming pool? In Germany around 1 million people have already fulfilled their dream of a swimming pool right on their doorstep. And their numbers are growing. According to a bsw snap survey, this season has got off to one of the best starts in many years.

People's longing to make their home warm and cosy is giving our industry a boost. There are however also other developments and trends, which are inspiring our industrial sector.

Firstly: the change in the weather. As far as our southern European neighbours are concerned, long summers and temperatures over 40 degrees Celsius in high season are absolutely common. And gradually the weather here in our latitudes is also changing. Whereas summer temperatures up to 30 degrees Celsius in Germany were previously the exception, in recent years we have experienced a dramatic rise in temperatures in the spring and summer months. The question: "Is an outdoor swimming pool in Germany at all worthwhile in view of the weather?" can now therefore be answered with a definite "Yes".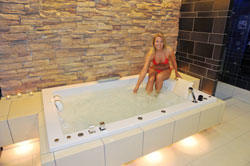 Secondly: increasing health awareness.
Sport and exercise also play a major role in a health-orientated lifestyle. And swimming is not only one of the most popular endurance sports practiced by active enthusiasts. According to an Emnid study, almost 60 percent of people who previously abstained from all sports activities are most likely to envisage swimming regularly.
Thirdly: the wellness trend and wellness holiday. Today leisure time no longer means lazing around and over-indulging, but being active and leading an action-packed life. Hotels without swimming pools and a spa area will thus find it difficult in future.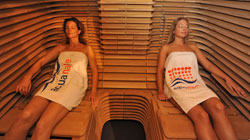 What people have experienced on their travels they also want to experience at home. The private wellness room is making inroads. The "Sauna without every-thing" is out – in is a holistic relaxation concept, which appeals to all the senses. In the private wellness room not only water and whirlpools play a role but also fragrance and steam along with music and massage.

As you can see, pools and wellness are not peripheral issues in Germany. Swimming, sweating and looking good are themes which have reached all groups of society.
That is why we are confident and optimistically looking ahead to a successful aquanale 2011."