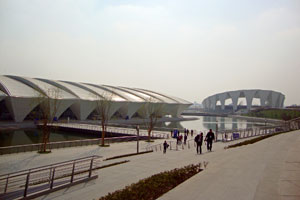 The 14th FINA World Championships to be held from 16th to 31st of July 2011 in Shanghai and Myrtha Pools in addition to being partners FINA will provide two temporary pools that will be installed in the Oriental Sports Center, a few weeks before the event, only to be dismantled at the end of championship.

Located by the east side of Huangpu River, next to Expo Park, Shanghai Oriental Sports Center consists of an indoor stadium, a natatorium, an outdoor diving pool, a press service center and the supplementary facilities like parking area and public bus stations
The Shanghai Oriental Sports Center

The natatorium is composed by lined arches. Located on the manmade island, the outdoor diving pool has a roof in the shape of a half moon. The spectators can enjoy the beautiful scenery of the Center and the Huangpu River when sitting on the open air seats.

As one of the major construction projects of Shanghai, Shanghai Oriental Sports Center will be not only an ideal venue for the FINA World Championships 2011 and other Shanghai international. A Level sporting events, but also a green and excellent physical fitness center open to the public.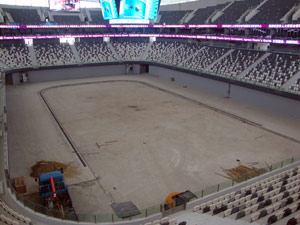 Myrtha Pools, on the occasion of the World Championships, will build two temporary pools in the indoor stadium thanks to Myrtha technology with Ceramic overflow that, being self-supporting (which is also peculiar in permanent ambits), guarantees at the same time, the pinpoint accuracy needed for international competition and the adaptability to a temporary situation: a 50 x 25 x 3 m for all swimming and synchronized swimming competitions - and a 50 m x 25 x 2 h for warm up.
FINA World Championships is a very big and high-level sporting event with a large number of participants: 5000 are provided for athletes, judges and delegations from 180 countries, 2,500 volunteers, 1,500 media representatives from around the world and it is estimated that at least 3.5 billion people who follow the competitions on television.