Asia's first truly international trade show for the pool & spa industry was held last week at the Raffles Convention Centre in Singapore. Attracting 45 exhibitors from Australia, Singapore, Canada, New Zealand, France, USA, Malaysia, UK, Germany & China – the exhibition was the first to address the opportunities & challenges facing the Asian pool & spa sector.

"The award-winning SPLASH! Trade Shows are currently held in Australia & New Zealand and this was our first event in Asia," said Simon Cooper, Managing Director of organiser Interpoint Events & Publisher of SPLASH! Magazine. "We recognised the market was different with greater emphasis on the commercial sector. The seminar programme reflected this with the most popular seminars being on Water Chemistry and Commercial Filtration," he said.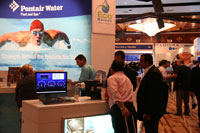 SPLASH! Asia was sponsored by Pentair. Hugh Smith, Director of Pentair Pool Group (APAC) said "The show was definitely what I expected. We had visitors from all over the region - there is a real thirst for knowledge and specialty training. All in all - fantastic and we will certainly be included in the future."


Welcome reception sponsor – NSPI's David Close said "SPLASH Asia worked. An amazing hub for all of Asia, we fielded questions from Singapore, Malaya, Indonesia, Arab Emirates and even India. There was a good steady flow of prospects. Our Professional Development Workshop was well received, and the topics generated a series of separate meeting with Singapore Government Officials. Follow up emails were back in Brisbane before we were!"

The show attracted more than 650 attendees from 21 countries. More than 60% of attendees came from outside Singapore making SPLASH! Asia a truly international event. Talks were held with a number of Government & Sporting organisations to further develop the event for 2013.


Other comments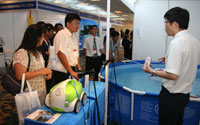 Visitors:

Gurcharan Kaur from Crystal Pool Services, Malaysia
"We read the magazine and saw this show was the closest one to us, so we came. We were looking for pool robotic systems. We saw a lot of goods that interested us and we actually bought the robot systems here. It made it easy for us. This show really solved my problem."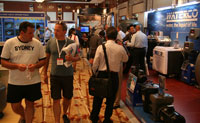 Prasad Jothirathna from Waterways Engineering, Sri Lanka
"It's very close for me to get to Singapore from Sri Lanka. The show was very interesting – I met a lot of good suppliers and I was very impressed with that. The water chemistry seminar was very good – Tom Lachocki is very knowledgeable. I liked seeing so many suppliers of pool equipment and pool finishes and pumps."


Exhibitors:

Chris Adams from Flolux
"We were very happy with everyone who's come through. It's been brilliant. We made a lot of contacts in Singapore, Taiwan, Philippines and a few Australians as well. It's been worth its weight in gold, really."


Peter Hogg from Magnum Filters
"This guy came along at 2:30. All he does in Indonesia is filters – spa filters, swimming pool filters, oil filters – just filters. And he said, can I be your distributor? And I said yes, that's what we're looking for. He said we start in Indonesia, then maybe we go to Singapore, maybe we go to the Philippines. That's exactly what we were looking for."