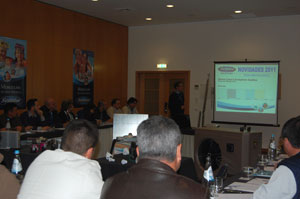 It was on last 10th of March that Seablue made its annual Gala in Lisbon City. Filipa Santos, Director of SCP Portugal and Paulo Moraes, Product Manager of Seablue in Portugal welcomed the new Seablue Dealers. Seablue group has grown year after year, having already 17 authorized dealers in all Portugal.
Always investing in new technology of manufacturing, Seablue presented in this Gala all the new technology for 2011/12, including new chemical's treatments, new exclusive structure, new pools, new heater pump, new site, new marketing tools and much more news, especially made for its authorized dealers.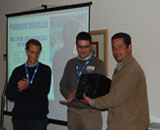 SEABLUE Awards

Like every years, SEABLUE rewarded the Dealer of the Year and gave the Branding Seablue Rewards, one of the highlight moments of the gala, creating some suspense.
First SEABLUE Regatta

Undoubtedly one of the moments of relaxation and socializing between all the SEABLUE dealers, was the Seablue Regatta. A funny competition that counted 4 Grand Surprise Boat of 9,54mt of length and a crew of 7 Seablue Dealers and a professional Skipper.

It was one more time a very pleasant SEABLUE GALA, training and preparing for all the dealers for the Season.