Replacement spa and pool filter cartridges supplier Filters4Spas has joined with Chinese company Hangzhou Darlly to form Darlly Europe Limited, which will be the group holding company for all European trading. Filters4Spas will be the operating company within Darlly Europe. The partnership has been formed in order to support business growth throughout Europe and further develop their dealer network.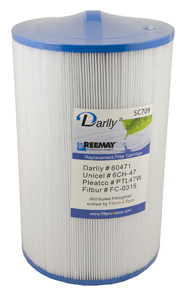 Speaking for Filters4Spas, Gil Gingell comments: "It has been and continues to be a real pleasure to work with the management of Darlly. In a short space of time we have collectively built a significant business within Europe, with market share increasing day on day.
Our combined responsibility is to promote the success of Darlly Europe through creating, directing and supervising a strategy that will produce major growth in 2011. We have boundless ambitions for Darlly Europe."

Darlly international export manager Theresa Zhang is has played a major role in the new company's formation: "Filters4Spas have been the driving force behind our considerable success in Europe, and forming Darlly Europe was the next logical step in our partnership. Darlly's business is based on innovation and quality; our business in the US, where we manufacture for a number of OEMs, has grown by 30-40% annually over the past five years.
Filters4Spas share our ideals and principles, and we feel that jointly we can meet the ambitious goals we have set for ourselves within Europe and achieve similar growth to that of the US."

Each Darlly cartridge carries a lifetime guarantee on the screw-thread, which is said often to be the weakest part of the filter.
The company also offers a 12-month money-back guarantee on all its filters, claimed to be a first for any filter company.