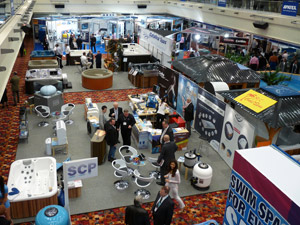 Spatex 2011 managed to escape the show-threatening snowy weather of the previous two years – but instead visitors were greeted with gale force winds and horizontal drizzle – not much fun walking along the seafront in that...
It's the second year running that the organisers have run the exhibition over the whole weekend and into Monday rather than starting on Sunday and continuing to Tuesday. Whether this had any direct effect on visitor numbers is hard to say, but certainly the subjective feeling was that the opening day was extremely quiet – for significant parts of the day, exhibitors must have outnumbered visitors in the main hall. Having said that, a number of exhibitors professed themselves pleased with the quality of visitor they received on their stands, and most rational people would probably rather have 10 new customers to the stand rather than 50 'tyre-kickers' – to borrow a phrase from the motor trade. It will be interesting to see the finalised visitor numbers for the whole three days.

In this review of Spatex, we've concentrated on new exhibitors and existing companies who had new products for 2011. If you were a Spatex exhibitor and had a new product we haven't covered here, please email your information and pictures to [email protected] and [email protected], and we'll do our best to feature it in the next electronic newsletter.



Show debutant Allspa used Spatex to focus on "wellness in the home for 365 days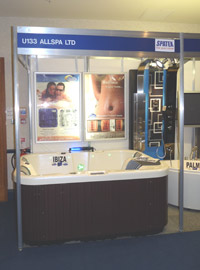 a year". The company was aiming to promote its whole Wellis range of wellness products, including spas, infrared saunas and shower units. Allspa is the exclusive UK distributor for Wellis products. Taking a prominent position on the stand was the company's Ibiza three-person spa featuring 28 high-pressure massage jets, 8 bubbler jets, lounger bed, two therapy seats, forced air aromatherapy system, and synchronised chromotherapy lighting system. The product comes with a set of accessories including spa cover, cover lifter, steps and a chemical pack. Allspa is keen to encourage potential purchasers to try out the products before buying them, and offers no-obligation testing at its showroom at Chobham in Surrey.

Also being launched was the company's "groundbreaking" Eco-blu water management system for spas, swim spas and pools. Consisting of a range of automated mineral or bromine generators, the Eco-Blu system is said to "make ownership and water maintenance of spas, swimspas and swimming pools easier than ever". Allspa says the units are cost effective, ecologically sound and save money over other systems, and are also simple to operate.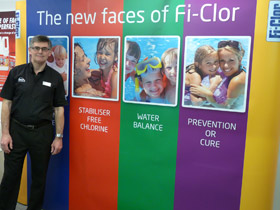 The Arch Chemicals stand once again featured both Fi-Clor and HtH brands – the former focusing on the new "The New Faces of Fi-Clor" branding that the company is now adopting. The company's Arthur Cox (pictured) said that the revamp is to ensure Fi-Clor products comply with the latest classification, packaging and labeling regulations.

The aim has been to use more modern images and clearer dosing instructions, and the new range will start to be rolled out in this first quarter of 2011 with further introductions during the season.



On the HtH side of things, Brian Tyler (pictured) enthusiastically described the new Arch Dosing System, a whole package that can be designed to suit pools of any size from 100m3 upwards. Using the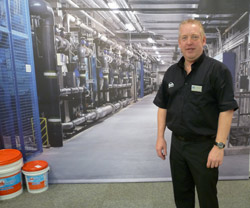 colour touch-screen control system, you can even control up to three pools from one controller. The system uses the Easiflo dosing briquette – a patented and optimised shape designed for optimum chemical distribution using spray technology – apparently the briquettes sit better with each other for more consistent results in chlorine distribution. Also featured was the HtH Shock product offering 78% available chlorine, which Brian says starts to work in seconds to shock pool or spa water and destroy organic contaminants. He says that for a 25m x 12m pool with an average depth of 1.5m (giving a total volume of 450m3), one 5kg application of HtH Shock will take the water from zero to 8.5ppm for a claimed minimum effect on water balance, total dissolved solids and pH.


Exhibiting at Spatex for the second year running, Arcus Enclosures aims to bring near all-year-round swimming to the domestic mass market while making the pools as energy efficient as possible. Featuring prominently on the stand was the comprehensive pool and enclosure package which comes in at £12,500 (see picture), and a mini-model of the enclosure showed stand visitors how the low-level enclosure works. New for 2011 are two spa enclosures for outdoor hot tubs. The Klasik Spa is finished in wood effect aluminium and features electric remote opening, while the Dallas Spa offers an aluminium finish and a fixed position. Also on offer are salt chlorination units starting from £695 retail, including VAT. Pictured are managing director Martin Paine (left) and son Dominic who runs the marketing for Arcus.


| | |
| --- | --- |
| | |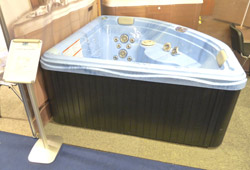 With a smaller Spatex presence, Artesian Spas chose to highlight the compactness of its one- and two-person 'corner' Garden Spas hot tubs designed to fit into the smallest spaces.

Pictured is the Camellia model, available in sterling silver or white and featuring 21 stainless steel jets, two-speed pump and step lighting. Options include the waterfall blue shell colour (pictured), ten LED lighting and ozone.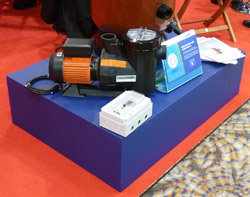 AstralPool returned to Spatex this year after a break in 2010, and once again ran its popular tapas bar every afternoon, celebrating the company's Spanish roots. Products on display included pumps, filters and the Lumiplus 2.0 LED lighting system.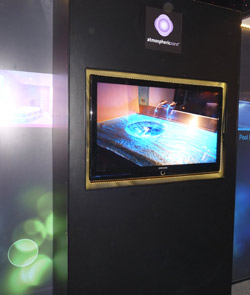 A striking selection of lights was on display at Atmospheric Zone, including pool and spa lighting, decking lighting, and lighting for cove, gardens and landscaping.

The company also launched its new rang of Cyrius LED lighting, as well as the new Savi Melody SOL, now in a one-piece unit and claimed to be three times brighter than the original and offering improved water resistance.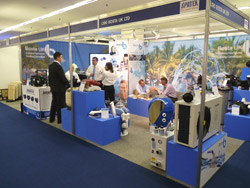 Bosta UK used to take a small ground-floor stand at Spatex focusing on pipes and fittings, but this year took a much larger presence in a new location.

Going under the banner of "Swimming Pool Supplies Creating Connections" to provide a link with its previous pipes and fittings focus, the company is obviously joining the fray as a full distributor swimming pool products. Products on display included pool cleaners, Intelliflo pumps, filters and the Dura heat pump.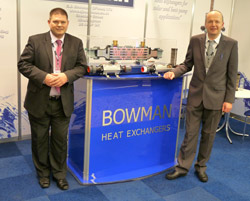 Bowman, too, was occupying a new home at this year's show. Highlight of the company's stand was a new range of stainless steel heat exchangers offering heat transfer rates of up to 320kW. Bowman business development manager Kevin Howell (pictured, left) says: "For applications where salt water chlorination or saline is not used, many of our customers view stainless steel as a the preferred material for heat exchangers due to the level of durability they provide when used in a typical indoor environment. In developing our own stainless steel range, we wanted to ensure it would complement our existing high quality titanium and cupronickel products in terms of efficiency, quality and longevity. We believe we now have a very competitive solution for the UK market in terms of performance and price."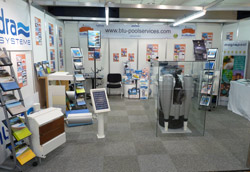 On display at show newcomer BTU Pool Services was a selection of pool products, from the Hydra Systeme automated slatted pool cover to lights, filters, above-ground pools, heaters, dosing equipment and chemicals.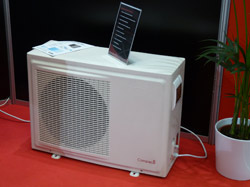 Calorex, which has bounced back from the serious fire at its premises a year ago, was focusing on the new air source and ground source heat pumps, which can be used instead of a boiler with the Delta heat recovery and dehumidification units. Also on show was the new Compac Heat Pump sourced from China, which is designed to economically heat a small pool, can be installed outside a plant room, and comes in 6 and 8kW versions.




An enticing looking swimspa (pictured, background) was part of the main focus at Catalina Spas.

Offering an all-in price of £13,500, the product offers an excellent way to get significant water-based exercise without the complexity and space taken up by a swimming pool. In addition, more traditional spas from the company's 2011 range were on display.




On visiting the Certikin stand, it w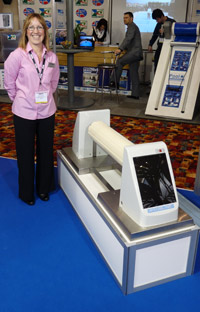 as easy to get distracted by the turquoise-clad (where there was any cladding at all…) girls drawing attention to the Roldeck cover range, but in fact there was much of real show interest besides. Among the new products – and exclusive to Certikin – was the Roldeck Easy Cover, an entry-level solar-powered model that is suitable for pools up to 6 x 12m, and needs no cabling or wiring. The end caps are available in grey or white, and customers can select almost all slat types and colours from the Roldeck range. The company's Jo Catterall (pictured) explained the product's features and benefits.

Other products included the Proflex foam-filled slats with high insulation value, and which have no end caps so you can cut the slats to almost any freeform pool shape. Certikin was also showing the 40kW heat exchanger from Bowman – a model exclusive to Certikin.

A range of other arrivals for 2011 was also on display. This included the Sylvania coloured LED lights, the Multi Cyclone Plus water saving filtration system, the Giant centrifugal swimming pool pump for commercial applications, the Vision Plus Deep Bed Filter, the Dolphin Supreme M4 and M5 ppool cleaners, the Delta Skymirror one-piece pool designed to dramatically reduce the osmosis effect (basically, water absorption) that can occur with pools of this type, and a new range of chemical dosing equipment.


Star of the Coast Spas stand was the Phantom Spa featuring what the company says is the only 2ft waterfall and also the world's only vanishing edge on a spa. The Phantom recently won the industry's best new spa design at the 2010 International Pool, Spa & Patio Expo in Las Vegas. Coast says that the Cascade Series of hot tubs are the only spas in the world where water displacement is eliminated – whether one person or eight people are sitting in the spa, the water level never changes. Spa enclosures were also shown.
| | |
| --- | --- |
| | |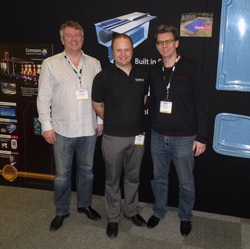 Exhibiting in its own right was Compass Ceramic Pools UK, which aims to take distribution of its one-piece pools to another level.

Director Alex Kemsley (centre, with the company's Jan Stevens (left) and Filip de Weer) believes the product has major aesthetic and longevity benefits and will benefit from wider exposure.






Chris Bannister of Corinthian PP highlighted the development company's new website, due for imminent launch. In addition, he was announcing the distribution rights for the Hydrazzo pool finish – a polished pool surface that creates a finish that Chris says is naturally resistant to spot etching, topical stains, permanent scale and algae adhesion.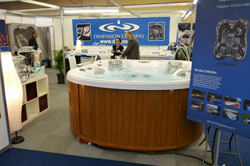 Dimension One Spas showed the Sarena Bay model (pictured) from its Bay Collection range. Described as the industry's first and only curvilinear hot tubs, the range is said by Dimension One to "add an eye-catching centerpiece to your backyard retreat". A pair of "His and Her" UltraLounges, each equipped with a programmable Dynamic Massage Sequencer, offers a professional, day-spa massage. The company is also launching the Triad range of hot tubs for 2011.


Howard Dryden – a long-time proponent of minimising chlorine use in pools because of the associated health risks from chloramines as well as chlorine itself – used Spatex to announce that his company Dryden Aqua is the new UK distributor for a Portable Nitrogen Trichloride monitor from French company Syclope. The background is essentially that nitrogen trichloride is the end product of the chloramination of water, formed by the reaction between ammonia and chlorine – the ammonia coming from human waste.

Nitrogen trichloride is toxic and has been implicated in causing occupational asthma as well as respiratory problems, asthma and an allergic response in children. For this reason, the German Environment Agency now advises that children under the age of 2 should not be allowed in swimming pools, and in France, trichloramines are even recognised as an occupational disease. Nitrogen trichloride levels must be below 0.3 mg/m3 in the atmosphere of public swimming pools in France.

Given that swimming pools or any application where chlorine and ammonium will mix has the potential to form nitrogen trichloride, and given that the gas is toxic, the concentration of the gas should be monitored and controlled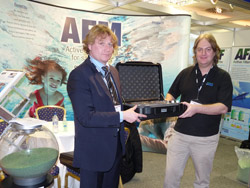 to protect the health and well being of the public and personnel working in the establishment. The Portable Nitrogen Trichloride Monitor is designed to do just that, and brings significant convenience to the measuring process. Dr Howard Dryden (right) is pictured with Arnaud Dantin, National and International Trade Manager for Syclope.

Another focus for his stand was the cost and chlorine savings available using the combination of Dryden Aqua products. At the main pool in Littlehampton, which has a 700-1000/day bather load, Dryden Aqua products have apparently slashed chlorine consumption by 80% as well as dramatically reducing water usage.


Vying with Innotec (see later) for the title of 'Most Optimistic Exhibitor' was Elite Spas, whose husband and wife team of Kevin Sanger and Isobel Rickards-Sanger (pictured with the company's new Encore design) make Elite an unusually refreshing player in the UK spa market. Isobel is the current president of the BSPF's spa regulation arm, BISHTA. Kevin emphasises that Elite designs its own spa moulds based on customer feedback: "We've listened to our customers and come up with designs that are wanted," says Kevin. The spas are branded Sunbelt in the USA and Elite in the UK and elsewhere.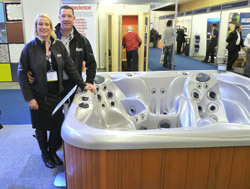 Listening to Kevin talk about the UK spas market for a few minutes is an enlightening experience. He has firm views about what he sees as being right and wrong in the industry, but most importantly he shows an unusually comfortable attitude about losing custom as well as winning it.

Despite his obviously successful business, he is not afraid to talk about customers who have decided to go elsewhere instead of buying his product – a breath of fresh air in a sector where defensiveness is the norm.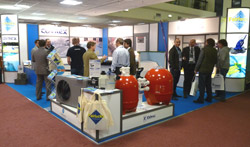 Pride of place at Fairlocks went to the latest developments to the Big Yellow One – which the company boldly describes as the "best manual vac-head on the market".

Other established products include the Betaloc permanent concrete shuttering blocks, the Covrex fully insulated automatic pool cover with new in-pool roller, the energy-saving Heatinverter heat pump, and Aqua de-light LED lighting. Among the products making their debut for 2011 is the Red Leopard Orbit automatic pool cleaner.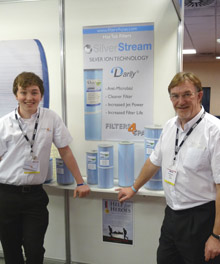 Having made its Spatex debut in 2010, Filters4Spas seems to be going from strength to strength under the management of Phil Moseley.

The company imports a wide range of replacement spa filters from Chinese company Darlly, featuring the Silver Stream silver ion technology.

Phil is pictured with son Dom, who runs Filters4Spas' marketing activity.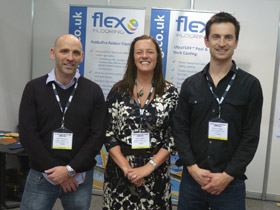 Launching the rebranding of his company Poolsafe to better reflect the company's activities, Simon Hubble was keen to promote Flex Flooring to the trade. The company offers a range of safety surfacing products for various types of installations, from swimming pools to splash pads, and golf pathways to playgrounds. Simon was launching its new product, Ultratuff, for which it is the UK and European supplier, and a new website is to be launched shortly. Simon (right) is pictured with wife Katie and Paul Robinson who both help run Flex Flooring.


Taking up their new home on the upper balcony overlooking the main arena, Golden Coast showed a host of new products to the trade for 2011 – including pool cleaners, pumps, lights, toys and numerous additions to the Essentials range.

One of the company's directors, Dominic Adams, was keen to highlight the new Zodiac cleaners, the Vortex 4 automatic robot cleaner (which replaces the Lazer) and the Barracuda T5 suction cleaner (which replaces the G4) – both exclusive to Golden Coast. The Vortex 4 is named after the powerful whirlpool it is designed to create within the large capacity filter bag. This keeps the trapped debris in suspension, preventing it from sticking to the filter walls and allowing a 30% increase in power.

New pumps include the EcoTouch model from Speck Pumpen, a variable-speed device which is designed to achieve the same filtration as fixed speed models but for lower cost. It comes with a remote wired controller that can be sited wherever you like, which now saves the operator from having to go to the pump itself to alter any settings. Also in the pump department were two new models from Etatron – for which Golden Coast is now the UK distributor, at least in their pool-related products. The My Pool B is a budget model described as a cost-effective way of auto dosing a domestic pool, while at the other end of the spectrum is the Dlx – a commercial sector product for pools of up to 600m3 that comes as a package with all fittings.

"There's a lot going on in lights," said Dominic (pictured). The stand featured three key LED models: the Savi Melody, Spectravision and Adagio – coming up with new and meaningful model names for LED lights must be a real challenge for marketing departments these days... The Melody is a self-contained 12V light with integral controller to handle colour changing, while the Spectravision fits into any niche and comes in while or colour-changing options. New in the catalogue for 2011 is the Adagio Plus, which is aimed at the commercial market and will be available in the summer.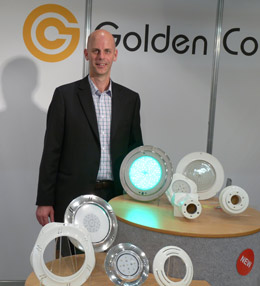 According to Dominic, the Essentials range of spa and pool accessories was Golden Coast's biggest growth area in 2010, and he is keen to point out their value in any pool or spa showroom: "It takes a long time to convince retailers to stock them, but they are impulse buy products – once on display, people will buy them." Now included as 'Essentials' are the previous 'Swimmer' range of pool chemicals. Dominic also points to a lot of replacement business for items such as spa covers and steps. "Any retailer not selling spa accessories needs to put them on their list for 2011," he adds. Retailers who place a £500 order are given a large section of snap-walling display units for free.

Another continuing success story for the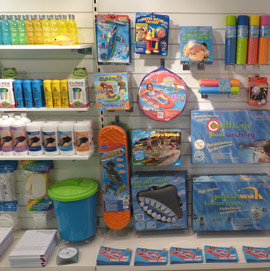 company is pool and spa toys, which Dominic says have gone very well. New (and increasingly bizarre!) items for 2011 include the Hydro Flyer; the Water Bomb Factory, which neatly and automatically ties off the water-filled balloon to save that constant struggle you have when trying to do that task manually; the Bullzeye; Splashwak totem tennis; Great White Alley, and the Light up Beachball for nighttime use.

Finally, in saunas, the Tylo Corner 2016 unit was on display. This model, from the Everyday range, mirrors the market positioning of the Everyday Spas from Marquis that Golden Coast also distributes.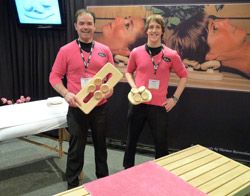 HaLu, another Spatex newcomer for 2011, was showing its new "revolutionary" head support for wellness applications.

The wellness pillows are constructed of four dishes on a platform that forms to any head shape and ensures the neck and head remain strain-free.

The pillow is ergonomically designed to provide excellent support to provide the best body posture. Pictured with the wooden version of the product are the company's Hans Luijkx (left) and Bjorn van der Einden.



Returning to the show after a year's absence, the Heatsaver team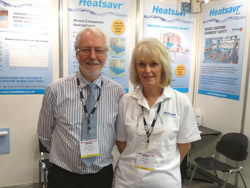 was celebrating the increasing success of its Heatsavr liquid pool cover system. Bob White (pictured with wife Joan) says: "We are experiencing a significant increase in awareness of Heatsavr among pool dealers who have finally realised that Heatsavr is a serious product, suitable for all types of pool – including domestic. Even some of the most hardened sceptics now realise that they have been missing out on a great additional sales opportunity with valuable repeat business. Whilst we already have representation in certain parts of Europe we are now looking to emulate our success within the UK pool trade, and to this end we are actively looking to expand our network of European dealers."






Products on display at Hydropool Europe included the round four-person 5000R model (pictured, right), which the company describes as being "great for the cottage".





As always, the Innotec stand was a 'must visit' again this year. The company's irrepressible managing director, Melanie Murrell, is one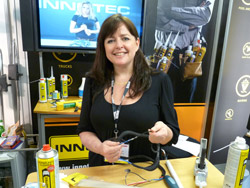 of a handful of people at Spatex who really bring pool and spa products to life – she could even make paint drying look fascinating – shouldn't all exhibition stand staff be like this? After all, if you can make glue and solvent products compelling, what on earth would be possible with some of the industry's more 'sexy' products? Yet another striking product demo saw Melanie showing her heat shrink product in action. It comes in different sizes, and the Easy Fit Sleeves and Easy Fit Connectors go to together to form a very strong and 100% waterproof seal. Spa Euro (which exhibited on the adjacent stand) is now the company's UK distributor.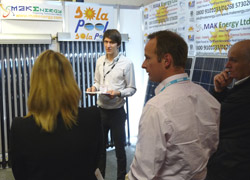 MAK Energy was promoting its range of renewable energy solutions as well as heat storage and low energy LED lights, aiming to help as many people as possible to reduce their carbon footprint.

The company gained certification for the Microgeneration Certification Scheme in 2010 for solar thermal and solar photovoltaic systems, and its installations are eligible for government schemes – Feed-in Tariff (FITs) for Solar PV and Renewable Heat Incentive (RHI) for Solar Thermal systems. Domestic and commercial LED lights include bulbs, spot lights, tube lights, bay lights, street and park lights which can save up to 70% of customers' energy bills.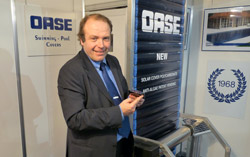 Frederic Claeys of Belgian pool cover company OASE was keen to show off his new 85mm wide polycarbonate solar slat with anti-algae hinge, designed to prevent the formation of algae into the hook.

The hinge is black on top to prevent light getting through. OASE says this addresses a common customer complaint.




Paramount Pool Products took up its usual Spatex position on the ground floor under the balcony, and had an extensive range of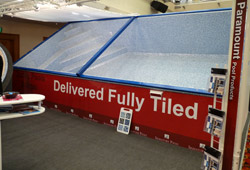 pool toys, pumps and lights on show. However, the real star of the stand – and almost certainly the largest product displayed at the show – was the one-piece, composite, fully tiled Signature pool. Comments the company's Keith Martin: "To the busy concrete pool builder, it's a great opportunity." The product is said to be fully adaptable, and you can even install jets to turn it into a training pool. Paramount has teamed up with a specialist transport company experienced in delivering outsized items to ensure there are no logistical issues with transporting the product. A one-piece Signature fully tiled spa was also on display.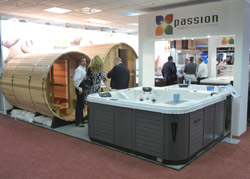 Passion Spas, which debuted at Spatex in 2010, was back with a much larger stand area. Featured products included the barrel-shaped sauna cabin and traditional hot tubs.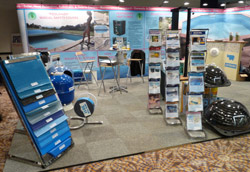 Products displayed on the Plastica stand included new liners for 2011, Poolsaver manual safety covers, Heatseeker heat pumps, solar showers and wooden hexagonal pools.



A number of new products were on display at Pollet Pools, including pumps, lights, stone and cleaners. Among the highlights were updated LED lights from Aqua de-light, a new low-cost MCB pump; and an improved Heat Perfector Pro heat pump range designed to be quieter in operation, and also featuring modifications to the casing to minimise the ingress of leaves and dusts in outdoor environments.

From SRBA (formerly Carotera) come a range of coping stones that are exclusive to Pollet in the UK. Managing director Peter Evans (pictured with a SITA UV unit) says that the company is one of the first to come out with coping stones that fully match the tiles they go with. Also shown were skimmer tiles and grating tiles, designed to save large amounts of time in cutting bespoke shapes around skimmers and overflows and all made from reconstituted stone.


| | |
| --- | --- |
| | |
Other products shown included the Pool Control Monitor, polystyrene blocks aimed at making it much easier and cleaner to lay the blocks for a concrete pool, and UV water treatment systems – which Peter says allow the operation of pools at much lower levels of total chlorine.



Taking a larger stand than last year on the ground floor in the main arena, Procopi UK was enticing trade customers with the offer of a free Scalextrix set for every order for a Starvac pool cleaner placed at the show. The company's Tim Harris was keen to highlight the new Lux Elements steam room system from Germany, which uses tiled and grouted polystyrene blocks and enables you to construct innovative steam rooms of almost any size and shape (see picture). Procopi UK is now the sole UK distributor for the Mr Steam products that complement a steam room. Still on heat and water, Procopi UK was also showing a portable dehumidifier, as well as the Climexel heat pump. However, of greater interest was the Spa France range of hot tubs, unsurprisingly manufactured in France and offering claimed easy maintenance as all the related mechanical and electrical items are sited under the spa step rather than being buried inaccessibly in the cabinet.


| | |
| --- | --- |
| | |




Riptide Pools were aiming to recruit dealers for the company's range of swimspas – according to the company's Huw Chivers, members of the trade could become a Riptide dealer for "just US$9778". The Neptune swimspa was on display.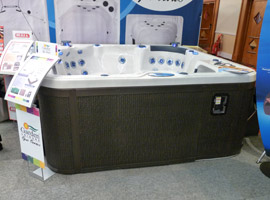 At SCP, Chris Allcock highlighted the expanded range of Garden Spas hot tubs, which now consists of 13 models and four swim spas (the XL model is pictured).

The 100 and 200 models are brand new. Also shown were some massive Bullseye pool barbeques from the USA – which come in at around £7000 for the person who really must have the biggest and best – and the Leisure Concepts range of spa accessories, cover lifters and steps.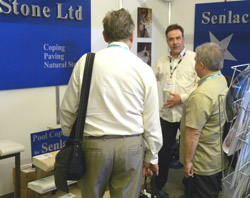 Stone specialist Senlac Stone was back at Spatex with the company's range of natural stone paving and coping stones.

Managing director Gavin Rutherford is pictured (centre).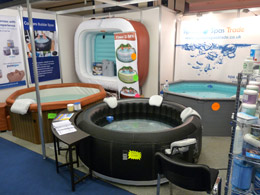 Splash Spas was back at Spatex with a variety of budget inflatable spas, including the Time 2 Spa and Camaro Bubble Spa.

The Camaro seats up to six people, comes with a lid and lockable cover, and is described as "self-draining".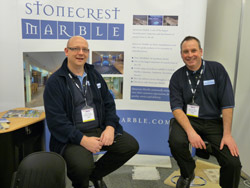 Highlighting its launch to the pool trade was Stonecrest, which reckons to keep 40,000ft2 of stone in stock at any one time so most ranges are instantly available – from limestone to travertine and marble.

Pictured are the company's James Sherwin (left) and Steve Gascoigne.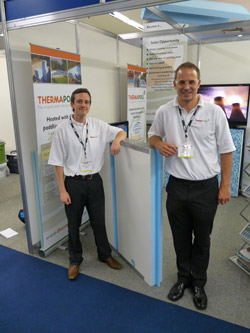 Nigel Rose of Thermapool was back at Spatex with his insulated pool panel system that he has been perfecting for a number of years as part of his crusade to improve the energy efficiency of outdoor pools. He says his is the only accredited pool system that attracts the government's £3500 Energy Saving grant.

For anyone who will listen, Nigel (pictured, right, with director James Richardson) has a host of anecdotes about how initially sceptical pool trade luminaries become converts – once they see for themselves just what benefits his system offers.

New for 2011 is a panel pool version (pictured, centre) of the Thermapool blocks that consists of interlocking blocks; the system is said to be so strong that deflection is measured at 0.8mm over a 10m span – meaning that only one brace is needed over that entire length.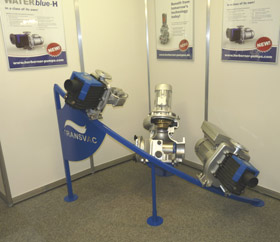 Among the products on display at the stand of show newcomer Transvac was the Waterblue-H variable-drive self-priming circulation pump.

Featuring an integrated hair and fibre filter, the product is said to be particularly suited to private and hotel pools, and any other environment where liquids can be contaminated by coarse materials. A notable feature of the Waterblue-H is the Easy Clean filter cover, which can be opened and closed without any additional tools.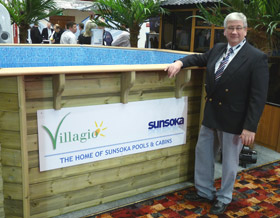 Making its debut at Spatex was Villagio, whose managing director Robert Henry (pictured) has bought the rights to the Sunsoka wooden pool brand from SP Leisure.

Robert has an impressive track record in running successful companies outside the pool and spa trade, and is very upbeat about the prospects for the Sunsoka brand. Production of the wooden Sunsoka pools is continuing in the UK, and Robert was using Spatex to look for new dealers.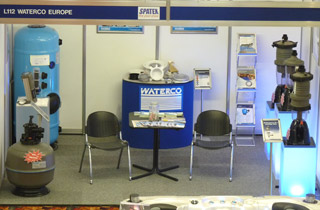 The Waterco stand featured the UK release of the Multicyclone Plus, said to combine all the benefits of the previous Multicyclone pre-filter with a 40 sqft cartridge filter.

The addition means that for pools of up to 80m³ the Multicyclone Plus eliminates the need for a traditional sand or cartridge filter, thus reducing the footprint of the filtration system.

It combines all the features of its predecessor with an inbuilt cartridge filter – the streamlined design means the entire pool filtration system can be installed vertically, on a standard pool pump if preferred or on a base alongside the circulation pump.