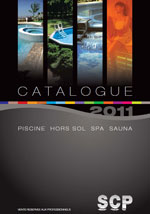 The 2011 edition of the SCP catalogue is out
. This new catalogue is consistent with the company's strategy, which aims to reinforce its status as major pool and wellness equipment distributor in Europe. For this, the new graphics of the catalogue have become sober and colourful; they are alike in all the countries where the company is found.
This new catalogue is divided into
4 universes: in-ground pools, above-ground pools, spas, and saunas
.
There is a large selection of new products in the catalogue. Among them we find: the new leisure
Garden spas
including the
GL1600
swimming spa, the
PVC 150/100
PROFLEX reinforced liner
, the
Poolstyle storage trolley
and other products to discover right away - while waiting for the release of the catalogue on public pools.