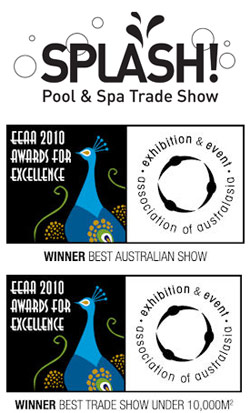 The Exhibition and Event Association of Australasia's (EEAA) 2010 Awards for Excellence were presented Tuesday night at an industry gala event. Interpoint Events won the coveted title - Best Australian Show for SPLASH!, which also received Best Trade Show Under 10,000m².
"We were delighted to win the Best Trade Show Under 10,000sqm² with our first and only submission," said
Simon Cooper, Managing Director of Interpoint Events and Publisher of SPLASH!
Magazine
. "But to win Best Australian Show was unbelievable! "
"Finalists included international players such as Reed Exhibitions and Diversified, as well as AEC – very tough competition for a small team and a privately owned Australian company.
"Of course, we couldn't have done this without the support of sponsors, exhibitors, attendees and all the suppliers. SPLASH! is a truly enjoyable event and one the team and I look forward to greatly – so much so, we are holding two SPLASH! events next year – in Singapore and in Wellington, New Zealand."
The judging panel of 20 industry and media experts looked at everything from floor space sold, number and diversity of exhibitors, number of attendees and also innovation in marketing and promotion.
SPLASH! 2010 achieved record exhibitor and attendance numbers and is recognised as an major contributor to the pool and spa market. It was an overwhelming success for Interpoint and the pool and spa industry at large.
"Winning an EEAA Award for Excellence is a distinguished mark of outstanding achievement in Australasia's event market,"
said
Margaret Crichton, General Manager, EEAA.
"This year the judges were exceptionally impressed by the level of commitment, creativity and quality of work taking place in the industry, so all entrants should be proud of the contributions they've made."
Media Release 6th December 2010