Sésame, located in the Haute-Savoie region near Annecy, has just inaugurated its first "exhibition mega centre".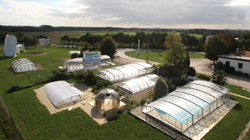 Sésame
will be exhibiting no less than
24 different real size enclosures
over 12,000 m² in Pacé, Brittany, near the Rennes exit (direction Saint-Brieuc).
This is without doubt the largest European exhibition for swimming pool and spa enclosures taking place in recent years!
The company is part of the IPC Group, a European leader in the telescopic pool enclosure market.
They produce the widest range of pool enclosures: from low to high model designs, passing via a range of specific "fashion" designs.
Sésame
also creates spa enclosures including two flagship models, Sunhouse and Orlando, each proving to be highly successful products each year.