Very well positioned in the market for the manufacture of Alkorplan 2010 75/100th liners in varnished membrane, Annonay Productions France has now been chosen to handle the distribution of 150/100th armed Alkorplan Standard 2000 and 3000 materials.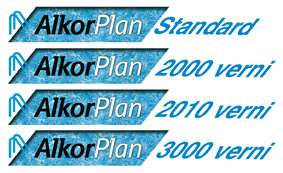 The reinforced PVC 150/100th coating is a waterproofing membrane composed of 2 sheets of reinforced 75/100th and a weft in textile polyester. With a permanent stock of over 70,000m², that is available in solid colour or varnished and also printed, the company is able to fill any order within 24 hours (shipment date), whether ordered in rolls or multiple pallets.
You will find Annonay Productions France at the Salon Piscine 2010 in Lyon, from 16 to 19 November, on stands 66D26 and 66D27, where it will unveil, in particular, its most recent printed non-slip fabric.