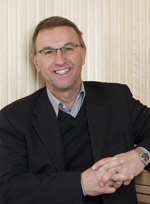 Krister Persson
President of Tylö


Loïc BIAGINI / EuroSpaPoolNews : « Celebrating the 60 years of a brand such as Tylö in the pool industry is not so common; how do you feel at this moment? How will you celebrate the event?
Krister Persson / Tylö:
We celebrated the event in two ways:
First, in September 2010 with all our staff,
A few weeks later, we organized an international conference that brought together nearly 100 retailers and distributors who represent 92% of our turnover.
We also published an anniversary book relating Tylö's history from its inception until today. Part of the book is a tribute to its founder, the legendary Mr. Sven Olof Janson.
As the head of Tylö for over a year now, what is your ambition? What are your future plans?
For more than 60 years, Tylö has been striving to promote the sauna and hammam as a true art of living by combining tradition and innovation with finesse. Our ambition today is to bring the sauna and steam bath into the bathroom and encourage our customers to experiment with different types of baths. In this perspective, we are doing all we can to develop products that combine design, performance and compactness.
How many countries do you cover today?
How many distributors does Tylö have in the world today?
Our products are exported to over 90 countries through fifty or so exclusive distributors. Some large countries like Russia and North America have several distributors.
Which are your top three markets?
Our three primary markets are Sweden, France and Norway
Which is the oldest distributor of the brand still in business today?
Our oldest distributor is Denmark, since 1966. Then Australia. Strangely enough it is the country farthest from Sweden that has one of the oldest distributors still in business. Indeed, we established close relationships with the company Sauna & Steam, located in Melbourne, since 1970.
And the French market, what does it represent in terms of business?
We have an exclusive contract with the company Nordic France since 1973, created and directed by Erik von Kantzow. For the last twenty years France has been our best market after the Scandinavian countries.
As a manufacturer of traditional sauna cabins, how do you see the breakthrough made by the new cabins equipped with infrared? What is Tylö doing within this new segment?
We have seen a growing interest in infrared cabins and it is for this reason that we launched, as part of our 60th anniversary, a full range of infrared cabins. There are 6 models in this range that is outstanding because of its aesthetics and finishing that is particularly well done, true to the Tylö tradition.
These infrared cabins complement the range of infrared panels that we have been selling for many years now.
What do Wellness and Spa represent in terms of business?
The Wellness and Spa Market has become a very important segment for us, but in the future we hope that the use of a sauna or steam room will be more accessible and people will be able to afford a home spa.
We wish to develop the Home Spa concept that avoids having to travel miles to a spa, when you can discover the same sensations at home. The ix210 is a first step in this direction. This model allows one, in a space of less than 3m², to discover the benefits of a sauna and a hammam shower in the same cabin. One proceeds from the sauna to the hammam through a watertight sliding door.