ForumPiscine Pool & Spa Expo and International Congress confirm their appointment at the Quartiere Fieristico felsineo [Felsineo Conference Centre District, Bologna, Italy] from February 24th to the 26th, 2011. ForumPiscine
, which in just two years has won the title of exposition leader in Italy for the swimming pool, wellness and spa sector, presents its third edition to the public and trade.
The organisers of the Expo – which last February brought
more than 6,000 visitors to Bologna (+20% compared to 2009) and over 130 exhibitors
– have already registered many scheduled participants. To the important confirmations of those who participated in 2010, may be added increased interest on the part of many foreign companies, which, with their presence, will further enlarge the range of products, services and innovations made available to attendees, professional and otherwise.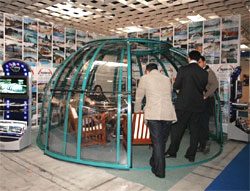 Yet again the variety of product categories on display will make
ForumPiscine
an important event in its genre with the exhibition of systems, innovations and technology for the construction, maintenance and care of public and private swimming pools, spas, wellness centres, equipments, décor and accessories for water activities, dressing room complements, covers, cladding and solariums, water filtration, analysis, sanitisation and treatment dosing and control products and systems and much, much more.
Besides the splendid exposition area,
ForumPiscine is proposing a rich conference agenda
aimed at architects, designers, builders and managers in the water sector, but also for entrepreneurs, directors and professionals in the wellness sector. The
ForumPiscine Exhibition conferences
will revolve around a management theme dedicated to the administration of pools open to the public, the
Aquatic Management Track and the Technological Track
for experts with corporate and associative framework workshops.
Assopiscine
, again sponsoring the event, will increase interest in the already rich conference program providing coherent and current content, fruit of the combined experience of its members matured inside of the Italian swimming pool industry.