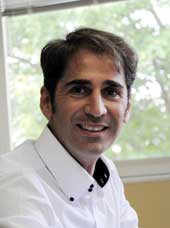 Paulo Oliveira


It has been almost a year since Paulo Oliveira took on the position of Managing Director of Flag Spa which, since the end of 2007, became a part of the French Soprema Group.
12 months of intense work that focussed the firm's attention on guaranteeing its clients dedicated services, from the design phase on up to the job-site, finding solutions that make their job easier. Returns for these efforts are now beginning to be seen: the company's turnover has risen in every market segment from coverings, tunnelling, waterworks and, of course, swimming pools.
It has been precisely in the sector of swimming pools,
with the close collaboration of Rosalba Boaretto, Director of the Business Unit,
on which a series of initiatives that aim for the technical and commercial expansion of
Flagpool
are being concentrated.
In this framework a research and development initiative in the production area has been anticipated with a significant restyling of the product and an ensuing strengthening of the international sales network.