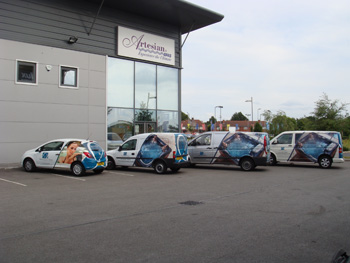 Doncaster-based company Artesian Spas
has unveiled a new and impactful branding to support its recently more proactive marketing activity.
Featured on all the company's vehicle fleet of cars and vans, the new branding displays images of bubbling spas and relaxed-looking people using them – along with the prominent Artesian logo on the front doors.
Artesian Spas business development manager Dave Edwards
says, "
Our vehicles will be hitting the road with our spas and logos to create brand awareness, reaching a wide variety of consumers
."