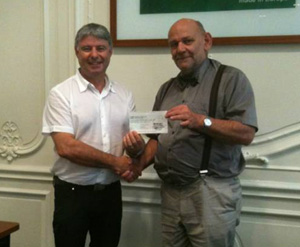 Bernard Vittorio (on the left) and Claude Hardy
Océdis president Claude Hardy is continuing his policy of external growth.
Océdis has bought shares in the company Melfrance, run by Bernard Vittorio.

The company was created in 1994 and in 2009 had a turnover of more than 4 million euros.
After several studies,
Océdis has chosen Melfrance for its reliability
, its product quality and its very loyal customer base.
This connection will ally the experience and professionalism of two dynamic companies,
not to mention the invaluable contribution of the specialised Océdis laboratory, led by Dr.
Xavier Darok
, with the development of Melfrance's industrial water treatment activities.
Bernard Vittorio
, is very much appreciated by his customers, and he will continue his activities within Melfrance as its Director.
Melfrance remains in its current premises.
134, rue Saint Martin - ZAC Saint Martin
84120 PERTUIS.
Tél : 04.90.09.84.89.
Fax : 04.90.09.93.48.
Océdis press release, 3 August 2010