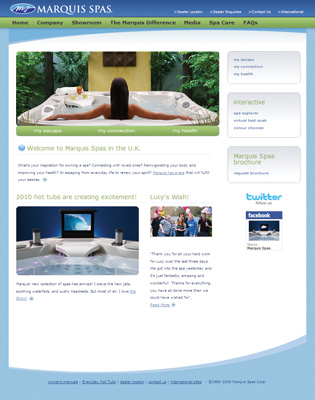 Spa and hot-tub manufacturer Marquis Spas has developed its own dealer website entitled 'University of Marquis', to provide the latest information on product development as well as sales and service update bulletins.

Through the website, dealers have access to numerous online training videos on a diverse range of subjects – from showroom strategy and details of recently introduced spas to installation and commissioning, along with troubleshooting guides for engineers.
Marquis has regionalised the
website to tailor information to models available in the UK and issues specific to that market
.
Dealers can download a large quantity of marketing support material and use it as part of their own marketing effort.
Marquis dealers can also use the site to send recommendations, suggestions and feedback directly to the US-based manufacturer. In the UK, all Marquis dealers have free access to the site through the manufacturer's sole UK distributor,Golden Coast, who provide their own in-depth marketing support.
Meanwhile, a new
Marquis Spas website
designed specifically for the UK and available to the public provides details of the full range of models and accessories available through
Golden Coast
. Modelled on the main
US Marquis website
, it takes the visitor through a virtual showroom containing all essential and technical information.

In addition, the 'Marquis Difference' section addresses the main issues of spa purchase and answers the questions that any would-be purchaser needs to know before making a decision.
There is also a virtual 'test soak', using interactive graphics to explain the benefits of Marquis Spas' dual Tri-zone therapy with its 25 distinct therapeutic combinations to provide tailor-made massages to suit individual needs.