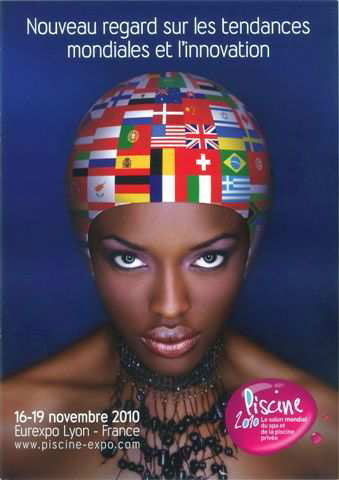 A real goldmine of ideas, information and information, the PISCINE 2010 exhibition being held in Lyon from 16 to 19 November offers a wide range of solutions to attract manufacturers, installers and influencers from the private swimming pool sector. Called upon to assist private owners with their design and technical choices, their role makes them forerunners in the latest trends and innovations within the sector. The spa and private pool market are evolving; the PISCINE 2010 exhibition imagines tomorrow's trends and develops new services.
A total of 635 exhibitors including 535 in the Piscine and Wellgreen sections.

Among the highlights of the event, PISCINE 2010 offers in exclusivity:


·

Pool Eco Attitude
: A special circuit to help
"Eco" visitors
in their quest
for products and services oriented towards sustainable development.·

Les Matinales
:
Brief seminars from 9 a.m. to 10:30 a.m.
every morning conducted by partners, firms or exhibitors, on various themes relating to the market.
·

The Top 100
:
The 100 major innovations
that will be selected from the three pavilions by
a jury of professionals
.
The trophies
will be presented during the exhibition..
At the exhibition, one can also discover :


·

The Club des Majors
The musts of the exhibition - the companies that form the
Club des Majors
have been in the market for over 20 years.
·

Swimming Pool Story
A short retrospective of the legendary scenes
in cinema that feature swimming pools
.
·

Pool Vision

To be a leader in a market, it is essential to know how to anticipate future trends in the industry. As an exclusive for the exhibition,
Dezinéo
, the design and trends agency and its
Trends Consultant,
Dominique Weizmann, will present the prospects of swimming pools in the not-too-distant future, based on the Pool Vision Study they conducted.
To open up new opportunities for its visitors and exhibitors,
the exhibition has also given carte blanche to the Créapole design school,
asking them to imagine the equipment and showrooms of the pool vendors of tomorrow. The most innovative projects will be awarded the Pool Vision Trophies during the exhibition.



·

Lady Pool


For the ladies: A special welcome, and terms of admission.

·

Pool party


A special POOL 2010 Exhibition Soiree will be organized on 18 November.