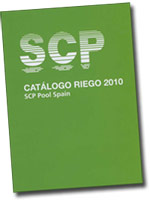 SCP Spain has just brought out its new catalogue dedicated to irrigation.
In line with PoolCorp, SCP's parent company which, via its Horizon brand, has been active for a number of years in the green market in the USA,
SCP Spain has bought Proplas Plasticos
, a leading player in the irrigation market (which includes golf courses, public and private gardens).
This is a clear indication of SCP's development ambitions in the green sector, in partnership with the best known brands, namely
Toro, Galcon, Tom King, Komet, Hunter, MP rotator, Rain Bird, Antelco and Azud greentec.
The introduction of
Display at its sales counters strongly supports
this new development strategy.