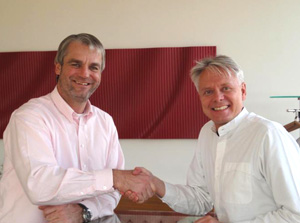 DI Friedrich Niederndorfer MBA (Abatec) und VM Kallioniemi(Sawo)
High-tech specialist
ABATEC Electronic AG
and sauna heater manufacturer
SAWO INCORPORATED
will develop future wellness trends together under the joint corporate product line known as SAWOTEC Wellness Solutions. The co-operation agreement was sealed by the two executives DI Friedrich Niederndorfer, MBA (ABATEC, see picture on left) and VM Kallioniemi (SAWO, see picture on right).
ABATEC will prospectively take care of the
Europe-wide distribution
of the
SAWO product portfolio
and SAWO will be responsible for the distribution of
ABATEC wellness products to Asian and non-European countries
as well as to
Finland
. The product lines of both companies will be consolidated, produced and merchandised under the corporate brand SAWOTEC.
SAWO INCORPORATED is the
world's largest manufacturer of sauna accessories
and one of the
world's largest producers of sauna heaters.
Since the acquisition of the sauna technology product division of Ondal in the year 2008, ABATEC is among the
top 3 European sauna technology manufacturers
and has already reached a high level of awareness in wide sections of the wellness branch. The product line encompasses the whole wellness range of both companies from sauna and infrared control units to sauna heaters and LED coloured lamps to the smallest accessories.