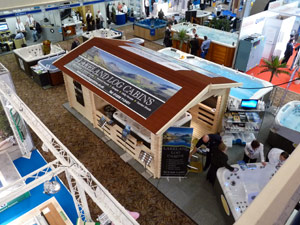 This year's Spatex pool and spa show in Brighton was somewhat more fortunate with the weather than in 2009… The severe winter conditions that gripped much of Britain from early December fortunately spared the early-February trade show – unlike last year, when a heavy dump of snow on the first night threatened the remaining two days.
We haven't seen any official visitor numbers yet, but subjectively attendance seemed better than last year's, though significantly down on the couple of years previously –
around 1500-1600 would seem to be a fair guess
. The idea of moving the show from its traditional Sunday–Tuesday slot to a Saturday–Monday period didn't seem to make much difference to the visitor numbers, but there's no doubt that the recession is still affecting the UK pool/spa trade – as it looks likely to do for some time to come.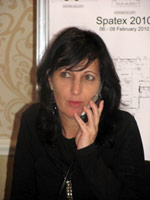 Michele Bridle
Show organiser
What they said…
Eurospapoolnews
has taken a random sample of views on the show from both new and established exhibitors, and here are some of their thoughts.
From Pollet Pools,
Peter Evans complimented show organiser Michele Bridle and her team
on the "
smoothest running build-up and break-down
" he had experienced at Brighton, adding: "
The economic conditions in 2009 led us to review our strategy for exhibiting in 2010. However, after six years in one of the side halls, we were offered a space in a more prominent position, and this convinced us to back the exhibition fully. This proved to be an excellent decision, as we saw a massive increase in visitors to the stand, and anticipate that this will provide a strong platform for growth in 2010
."
Fairlocks Pool Products
– one of the newest distributors in the UK pool and spa fray – was equally upbeat, with director
Paul Webb commenting:
"
Spatex 2010 was really good for Fairlocks. We were hugely impressed with the visitor numbers, and our stand was busy all three days. We feel the new format of Saturday, Sunday and Monday was a major improvement which seemed to balance the visitors more evenly throughout the show. Whereas in previous years the last day was very quiet, this year Monday was busy right up until 4pm
."
Show debutant
Filters4Spas
had an excellent show, according to
managing director Phil Moseley
, who revealed that he took 90 leads and was "
delighted with the reception and promises of support
" he received. In fact, he says that he has been so busy since then that he has had to hold back all his planned marketing activity as he was in danger of running out of stock! He thinks the new format was a good idea, and was expecting the Saturday to have been a great success, but for him it turned out to be the poorest day in practice. On the other side of the coin, though, he says he has commented to the organisers that they have to consider a change of venue, and admits to being taken aback when he was told that present exhibitors want to stay in Brighton because of the socialising and night life… "
Business prospects don't need taking out for dinner; they need quality product and efficient service at a fair price
," laments Phil.
Another exhibitor making its debut was
Sound Ideas
, who were clearly very disappointed with the event. "
Certainly we expected the show to include more swimming pool exhibitors and fewer spa installers. It was badly attended and it should be attached to a larger "Ideal Home" type show in London
," says
director Steve Godleman
.
Meanwhile distributor
Golden Coast
, taking a break from its usual major presence, chose to take a small shell stand around the outside of the ground-floor area beneath the balcony to concentrate on promoting its up-market
Tylö
saunas and steam rooms.
Managing director Jamie Adams
felt overall that the show wasn't as busy as it had been in the past, although he says the company generated almost the same number of new leads as it had done previously. "Having just one brand on display did allow us to focus, and interestingly a number of seasoned visitors said that previously they had not noticed the Tylö brand due to it being one of many others on display," he says, adding that for 2011 Golden Coast will be choosing between taking more shell stands, reverting to its traditional open-sided large stand in the main ground-floor area, or even not attending the show at all.
A Large Pool of Products
Whatever the visitor numbers and general show response though, with around a third of the 100-plus exhibitors being newcomers, there was a lot of interesting product around to keep the keen show-goer's attention. Exhibitors Original Style and Aqua Finesse also vied for visitors' attention, both companies having gone out of their way to provide eye-catching stand attractions…

Here is a snapshot of the key products and services that caught our eye at Eurospapoolnews.com.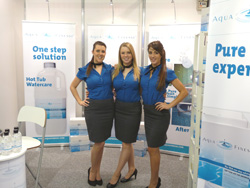 Rhiannon Woolford, Megan Woolford and Kayli Koob from AquaFinesse

AquaFinesse
For some reason, the
AquaFinesse
stand was one of the most-photographed at this year's Spatex. It was like one of those TV adverts that is so memorable, you can recall every second of the commercial but can't actually remember the product it is promoting…
However,
Eurospapoolnews
did eventually manage to concentrate on the benefits of the
AquaFinesse product
– a "
patented environmentally friendly formula of crystal clear water
" that is claimed to loosen layers of biofilm in spas and spa pipework with a weekly treatment. The biofilm layer is rinsed away by the action of the water and prevented from reforming. The result is a claimed dramatic reduction in the levels of bacteria, then requiring only a minimal amount of sanitiser.
AquaFinesse was using Spatex to recruit new dealers.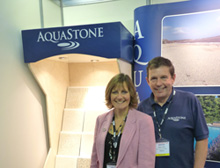 Aqua Stone Pool Finishes
Pool finishing specialist Aqua Stone was promoting its status as the sole licensed applicator for the PebbleTec and PebbleSheen pool finishes in the UK, Channel Islands and Ireland. New for 2010 is an abalone shell finish designed to give a natural seashore effect. Pictured are directors J
ane Waller and Stephen Jones.

Arch Water Products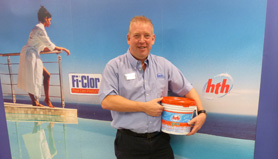 At Arch Water Products,
Tony Sanders
highlighted the launch of the calcium hypochlorite HTH fast-dissolving Shock granules featuring 78% available chlorine – apparently sufficient to take a 450m3 volume of water (an average 25m pool) from zero to 8.5ppm with a single 5kg application.
Claimed benefits of HTH Shock
are: quick algae clearance; cleaning of the filter and surface draw-off channels and skimmers; burning off of inorganic chloramines; minimum effect on water balance, TDS and pH; does not add to cyanuric acid levels; and easy to use with no predissolving needed.
Also being announced was a complete branding revamp for the
Fi-Clor
spa chemicals range, which is now colour-coded for ease of use. Tony Sanders believes Arch is the first company to conform to the new legislation regarding labelling harmonisation.
Finally, Tony revealed that the
Fi-Clor Active Oxygen
product was expected for release in March, offering a chlorine-free replacement shock treatment for pools and spas.
Commercial manager Brian Tyler is pictured with a 5kg container of Shock granules.
Arcus Pools & Enclosures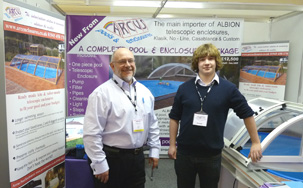 Martin Paine of Arcus Pools & Enclosures (pictured with son Dominic) has put together a tempting low-cost domestic pool 6 x 3 m package for use in almost all weathers, featuring: a one-piece prefabricated pool; telescopic enclosure; skimmer; filter; pump and pipes; cleaning kit; underwater light; steps; and (in most packages) a swim jet. He says the kit comes with everything needed for installation.
The pool can be used throughout the year, although Martin agrees that some people will not want to swim in extreme cold conditions such as the UK has recently experienced. However, he reckons the Arcus package will triple the viable swimming season for most users. The larger enclosures available are apparently large enough to stand up in – giving an increased feeling of space. The entire package weighs in at around £12,500 – still with what Martin says is a "
very attractive
" dealer margin.
He was very pleased to have heard a few days before Spatex that the package had won Homebuilding & Renovating Magazine's 'Self Build Product Innovation' category in the publication's recent annual awards event.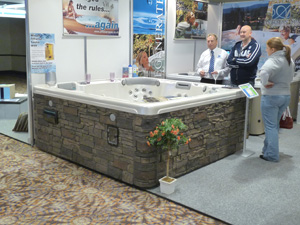 Artesian Spas
Among the spas displayed on the Artesian Spas stand was this model from the Island Spas range, featuring a stone-effect finish.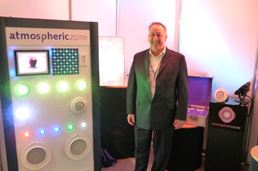 Atmospheric ZoneSteve Mallory
(pictured) of fibre-optic and
LED lighting specialist Atmospheric Zone
says that Spatex is a great platform to demonstrate the latest lighting innovations and new emerging lighting technologies available. While he had no completely new products to show, he professed himself happy with the outcome: "
We met many end-users this year as a result of the different opening times, and we believe this will pay dividends to the pool and spa industry by encouraging the end users to get enthusiastic and demand the latest products available on the market
."
BowmanHeat-exchanger specialist Bowman
exhibited its new range of Titanium and Stainless Steel Swimming Pool Heat Exchangers alongside its existing Cupro Nickel range.
The two new types were introduced at the Piscina show in Barcelona in November 2009, but this is the first time that the UK market has been able to see the range, which is suitable for heating pools using boilers, solar panels and heat pumps rated up to 1200kW.
"We hear a lot about salt water chlorination being used in pools, so we needed to offer a titanium tube. We have now moved to a composite material for the tube plates, because you can't solder titanium and stainless steel."
Calorex
Exhibiting in conjunction with its official UK distributor, Certikin International, Calorex was featuring a range of new products on the stand – the company emphasising that all its offerings are designed and manufactured in the UK.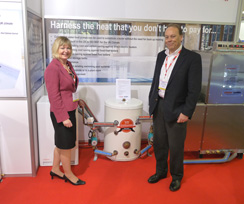 The stand had a particular focus on heat pumps, and managing director
Richard Carrington
(pictured, right, with marketing manager Chris Brown) began by highlighting the UK government's support for heat pump installations – announced the previous week. Part of its Renewable Heat Incentive (RHI) initiative, the scheme is designed to stimulate the uptake of renewable heating technology for domestic heating. Richard says that the RHI "totally transforms the financial case for the installation of a heat pump". The RHI promises an annual incentive payment of nearly £1000 to owners of an
'average 100m2 bungalow'
who install ground-source or air-source heat pumps. Calorex supplies a range of heat pumps to cater for most domestic requirements.
Specifically in swimming pools, Calorex highlighted its Propac 30 model for commercial pools, with output starting at 32kW and featuring a titanium heat exchanger. The product is said to be fully automatic in operation, and a reverse-cycle defrost option is available.
At the other end of the scale, the Pro-Pac 8-22 and 8-22Y are specifically designed for domestic pool heating, with outputs ranging from 8 to 22kW. Calorex claims savings of up to 400% in operating cost and carbon saving compared with direct electric heaters.
Catalina Spas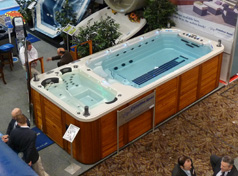 The Catalina Spas
stand featured several products designed to catch the eye,
including the 18ft-long Dual Temperature Swimspa
(pictured), which starts from just over £20,000 at retail prices. Described as a "leisure and fitness swimspa", it features independent filtration and heating systems to allow different temperatures in the pool and spa sections, and is available in four- and five-pump versions – as well as in a choice of single or three-phase supply. The four-pump version has two pumps on both the pool and the spa, with the spa booster pumps being connected via special diverter valves to allow the high water flow to be diverted from the spa end to the river swim jets. Each of the pool river swim jets is adjustable, and also has air boost. Both models are fitted with two heated air blowers that force air into the water manifold and are designed to boost performance. The Dual Temperature Swimspa comes with an insulation/safety cover that Catalina says makes the product ideal for all-year use.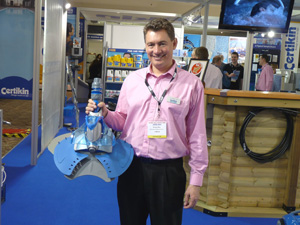 Certikin International
The only one of the leading pool and spa distributors to retain the same stand space and location as last year, Certikin International featured a number of new products for 2010. Among them is the Endless Summer Heatwave heat-retaining panel pool – the deluxe version of which is claimed to feature the highest μ-value of any pool on the market. This pool can now benefit from Certikin's newly launched low-level enclosure to significantly extend the swimming season for outdoor pools. Also new is the D Line one-piece pool from Riviera, featuring an unusual granicite finish for a natural stone appearance. Meanwhile the Hidden Water Pool is a pool shell that raises and lowers on a column mounted in the pool floor. When the pool is not in use, the platform is at deck level supported by stabilising legs, and the pool is out of sight; when in use, a hydraulic cylinder drops the platform to any required depth below water level, enabling the creation of anything from a full-scale swimming pool to a paddling pool.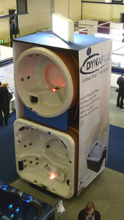 Dynaflo by Dynasty Spas
The Certikin stand featured a number of pool equipment items – from a
Vacless Safety Vacuum Release system
that deprimes a pump on the occurrence of an entrapment incident, to the
Hi-Performance LED pool light promising
a life expectancy of 100,000 hours. But possibly the most interesting item was the X7 Quattro powered pool cleaner from Zodiac. Sales manager Richard Way (pictured with the X7) says it is suitable for in-ground pools of all shapes, types of pool floor and surfaces, and connects to the skimmer or vacuum point without any additional equipment. The "Quattro" designation reflects the products patented technology featuring four flexible discs to provide extra adhesion when cleaning corners and the pool walls. The X7 is fitted with a DiaCyclone motor claimed to offer 40% more suction power.
Dynasty Spas

The Dynasty Spas stand featured this eye-catching display of the company's Dynaflo acrylic moulded 'Plug and Play' 13-amp spas with stainless-steel jets.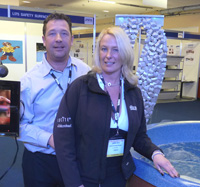 Kevin and Isobel Rickards-Sanger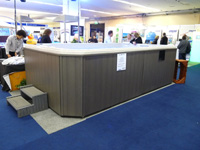 Elite Spas
Spend a few minutes in the company of the irrepressible
Kevin Rickards-Sanger (pictured with wife Isobel) at Elite Spas, and you're guaranteed to come away
feeling that the world is not so bad after all. When it comes to claiming the '
Most Positive Person at Spatex
' award, Kevin walks it – no question. In fact, Elite's advert in the Spatex Catalogue and Show Guide threatened to charge a £10 fee for "grumpy and grouchy" stand visitors! According to Kevin, his secrets are nothing unusual – just exceptional customer care, and high-quality specially designed product with good after-sales support that you can't buy elsewhere.
Featuring strongly on the stand (after all, it's hard to hide something that's nearly 15ft long…) was the company's
Eco Swim Spa
(also pictured), which comes in at a tempting retail price of £10,995. Offering four swim jets powered by two 5hp pumps, the Eco Swim Spa also has 15 therapy stainless steel jets, a programmable filtration system, anti-bacterial protection and dual ozone, and comes with a 25-year structure, 7-year shell and 5-year parts-and-labour warranty.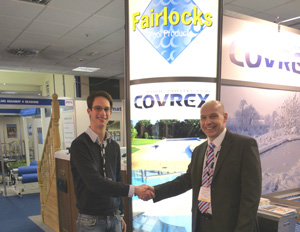 Paul Webb (right) & Guillaume de Troostembergh - Covrex Product Manager

Fairlocks Pool Products
The main story for Fairlocks was the announcement of its exclusive distribution agreement for the Covrex pool cover brand in the UK and Ireland.
"We wanted to be seen with a new product launch to make an impact. We're really excited about this announcement, as the Covrex slatted cover is a great product,"
says
Fairlocks director Paul Webb
.
"The slat is unusual in that it is solid, and has very high insulation properties – with a μ-value of just 0.12. It can be shaped on site with a jigsaw to match any size or shape of pool, and comes with a five-year warranty – the longest on the market. We've had a phenomenal response from visitors."

Filters4Spas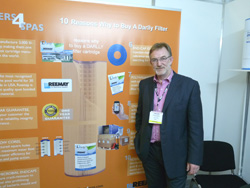 Brand-new company Filters4Spas is aiming to build the brand and image of Chinese-based manufacturer Darlly Filtration, while distributing their products throughout Europe and also making it much easier for consumers to buy the correct replacement filter for their spa.
Director Phil Moseley
(pictured) says:
"There are around 120,000 spas in the UK, and they all need filters. A lot of spa problems stem back to the filters, and it's important to get the correct type."
Phil's confidence in his product means he is happy to send out a filter sample to retailers free of charge, and also claims to be the only supplier to offer a 12-month money-back guarantee (as long as the warranty is registered online at time of purchase).
Filters can be purchased from Filters4Spas in cartons of four or nine, pallets of 300-500, containers of 2000-4000 or 4000-10,000, with volume discounts available.
Gaffey Technical Services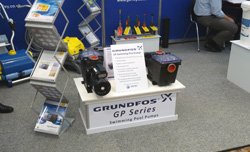 Gaffey Technical Services used Spatex to launch its partnership with global pump giant Grundfos, acting as the sole UK distributor for the company's GP Series products (see picture), designed especially for domestic and smaller commercial pools.
Gaffey is also stocking the
Grundfos Pool-Pro hybrid pumps
with Eff1 high-efficiency motors which are included in the government's
ECA energy scheme.
These pumps have the option of built-in variable-speed control designed to save thousands of pounds in energy costs over the lifetime of the pump.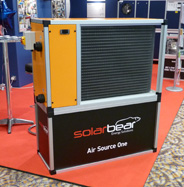 Heatstar
Exhibiting at Spatex for the first time in its own right (the company normally shares with Astral, who decided not to exhibit this year), Heatstar showed the cleverly named SolarBear Air Source One aerothermal heat pump. Essentially a refrigerator in reverse, an air-source heat pump works by using a chilled surface to absorb heat from the air and using it to heat the pool water. Although the product works better with higher air temperatures (as do all air-source heat pumps), Heatstar says that even in low winter temperatures a correctly applied Solar Bear heat pump can still absorb sufficient heat to enable
"efficient and effective heating".
Heatstar says that for every kilowatt of energy paid for, the Solar Bear heat pump absorbs a further 4kW of heat from the air, claiming this outperforms any alternative fuel based method of heating.
H2O Plus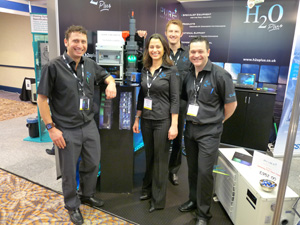 Show newcomer H2O Plus was promoting
"energy efficiency and awareness in pools"
with its new Pure + Oxygen product.
Director Jake Fronda
says the driving factor is that a lot of people are asking for no-chlorine pools, but that it is not possible to have a properly disinfected pool with no chlorine.
Instead,
Pure+ Oxygen'
s aim is to minimise the amount of chlorine in a pool to the point where people don't notice it – but where it is still doing its job. This saves significant amounts of energy – as well as chlorine costs.
The product works by breaking water into its molecular structure of hydrogen and oxygen, the oxygen being the active component used as an oxidiser. Copper tubes in the chamber serve to break down algae.
Jake says the product can be scaled up to any size of pool, and prices start from under £2500, including a pH control facility.
He is pictured (left) with sister Camilla and Graham Moring (both engineers), and (at the back) marketing manager Marvin Rumary.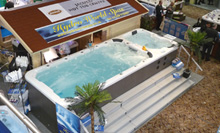 Hydro World Spas
On show at the
Hydro World Spas
stand was the 5.8m-long SX-6000 swim spa, offering a total of six pumps, 64 jets, perimeter LED lights and a DVD system.

Innotec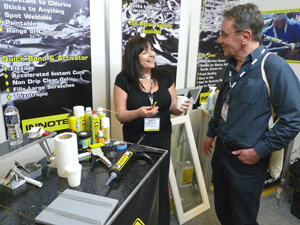 Where riveting product demos are concerned, the Innotec stand never fails to disappoint at Spatex, and this year was no exception. Director Melanie Murrell clearly knows her products like the back of her hand, and is not afraid to 'go for it' with what the rest of us would consider to be risky demonstrations that might go wrong.
Among the novel products Melanie demonstrated was an electric spray, which she described as "WD40 on steroids", designed to push all moisture away from surfaces that need to be water free – such as electrical contacts.
Melanie also demonstrated an incredibly strong double-sided tape that seemed to stick to anything – and which could not be pulled off however hard you tried.
She also showed a gel threadlock – claimed to be the only one in the world – which comes in medium, strong and extra-strong strengths. Finally, Easy Gasket is a liquid free-form product that enables you to make new gaskets for joins without having to spend ages cutting out a piece of rubber or plastic – and then finding it still leaks.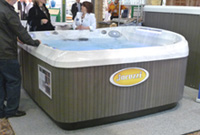 Jacuzzi UK
Considering current market conditions, a surprising number of spa manufacturers/distributors made an appearance at Spatex, including Jacuzzi UK. Among the spas on display at Jacuzzi's stand was the six-seater J-480CD (pictured), featuring the company's new curved profile.
This top-of-the-range model is available in a number of colours, and comes with two hydromassage pumps, 48 jets, two filters, waterfalls and headrests, and a new stereo system.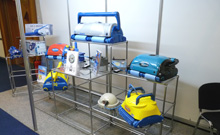 Kal-Tech UK
The Kal-Tech stand featured a number of automatic pool cleaners, including these from the Aqua-Bot range.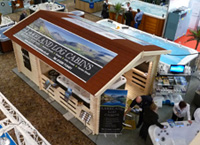 Lakeland Log Cabins
The Lakeland Log Cabins stand featured an easy-to-assemble self-build log cabin kit. Made from Nordic spruce, known for its longevity in harsh climates, the product is said to benefit from high levels of durability.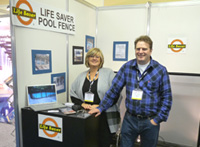 Life Saver Pool Fence
A regular at the European pool shows, Richard Holling of Life-Saver Pool Fence (pictured with wife Cathy) was once again presenting his pool fence solution that conforms with the stringent French standards. The product is designed to provide full protection while being as unobtrusive as possible.
Lifting Pool Floor Company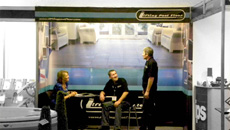 An excellent way to make additional use of your pool space comes courtesy of
The Lifting Pool Floor Company.
Suitable for pools up to 5m in width and 15m long, the lifting floor enables your indoor pool area to become a dual-purpose space said to be ideal for entertaining, indoor games, outdoor living and family pursuits. A lifting pool floor replaces both a safety cover and a solar cover, and is reckoned to last between three and five times as long. Floor surfaces are available fully tiled or in non-slip GRP.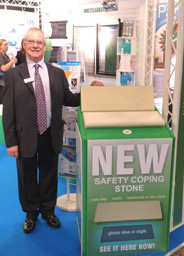 Paramount Pool Products
The Paramount Pool Products stand featured a host of pool equipment items, from LED lighting to pool toys to panel pools. However, what really stood out was a new safety coping stone made from a squashy non-slip resin material that can be cut to shape as required to fit any shape of pool. There is even a luminous version available that glows in the dark for additional night-time safety. Director Keith Martin is pictured.



Passion Spas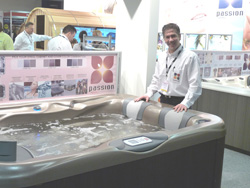 Dutch company Passion Spas was debuting at Spatex with the aim of recruiting dealers for its range of domestic spas and hot tubs. T
he company's Marinus van der Kamp (pictured)
was very upbeat about their prospects, despite the number of players in the market and the stagnation in hot tub sales:
"We have no share of the UK pie, so a small bite of it is fine by us. We know how to sell spas in Europe, so we are bringing our skills over here."
Marinus says that a major selling point is the service and backup his company offers, with a full inventory of all spares held just over the English Channel in The Netherlands.
He was also keen to praise the show itself:
"Spatex is really well organised," he said. "The organisers have done a really good job."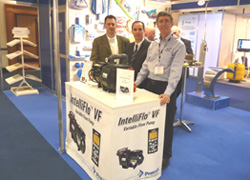 Peter (right) is pictured with Pentair's Michael Lux and Brice Nicolas (centre).

Pollet Pool Group
For the first time since its Spatex debut six years ago, Pollet Pools moved from its far-flung location in the second hall to a central location near the main entrance doors to the show.
Managing director Peter Evans was keen to highlight the new Pentair Intelliflo VF pump, featuring a variable flow rate, not a variable rpm rate, and offering major energy savings compared with a standard pump. Peter says you can tell the Intelliflo the size of the pool and the turnover rate you require, and it will do the rest – calculating the required flow rate. You can also program it to increase the flow rate when a poolside suction cleaner is connected.
Acknowledging that the cost of purchasing this kind of product can stretch budgets, Peter says that Pollet is offering a rental scheme over five years – over which time it's fully supported and "also more than pays for itself". Renting the device means it comes out of maintenance budgets rather than counting as capital expenditure.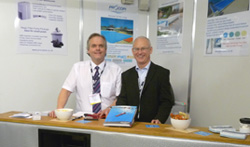 Procopi UK
Tim Harris and Paul Jeffries of Procopi UK (pictured) showed the company's new Alkorplan Platinum liner material, displayed in an innovative manner – covering the bar frontage on their stand to make it look like a pool wall. The new material was accompanied by co-ordinated fittings – Paul Jeffries commenting that these are increasing in popularity.

SCP UK
A relative late-comer to the show, SCP decided to take a smaller stand than usual – but this time in the main ground-floor area. Spas were the main stand focus, including the unusually shaped Cove Spa C200 – designed as a space-saving solution for two people, and featuring 14 jets, LED lighting, a glacier white shell and a Teak Permawood cabinet. SCP UK manager Ian Pratt is pictured.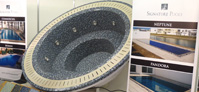 Signature Pools
Among the products on the Signature Pools stand was a circular commercial spa, offering a variety of finishes.
Sound Ideas
The Sound Ideas stand featured SonarGuard – an advanced swimming pool security system that creates an invisible underwater 'sonar net', setting off an alarm if anyone falls into the pool. It works on any size or shape of pool or spa, and is claimed to distinguish between a real event and pool toys, wind or a dog drinking from the water's surface. The system is controlled from a remote keypad, and has a PIN number control for disarming it, and the solution can be integrated into a home security system.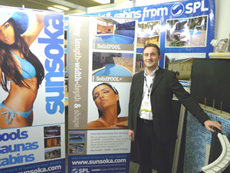 SP Leisure
Tristan Bateup, director of SP Leisure, was focusing on the SolidPool panel pool system that can be made into a free-form shape and can even be tiled. The patented system is made of polypropylene blocks, and Tristan says it can be used to make a pool of "any shape, size or depth". He was also promoting the Sunsoka range of wooden pools, saunas and cabins.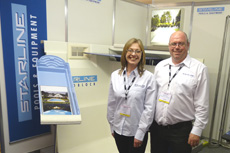 Starline
Darren Brown of Starline Pools did not have any new product to show in his range of Monoblock one-piece pools, but was stepping up his crusade to show installers just how easy and effective these products could be:
"I want to break the mould of concrete and liner pools,"
he says.
Darren is pictured with wife Caroline.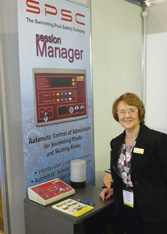 Suntrap Systems
At Suntrap Systems, Janet Cornthwaite (pictured) was promoting the Swimming Pool Safety Company's Session Manager product, designed for automatic admission control to commercial pools and skating rinks. Session Manager keeps track of the number of swimmers in a pool at any time of day, using a system of coloured wristbands given to swimmers depending on the time they bought their session. A coloured beacon corresponding to the swimmer's wristband lights when their session has expired. Suntrap also focused on its range of disabled pool hoists.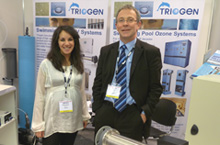 Triogen
While Triogen was not exhibiting a new product or service, it was keen to continue to promote its range of swimming pool ozone systems to the commercial pool sector. Pictured are Triogen's Khadija Onneby and Phil Castle.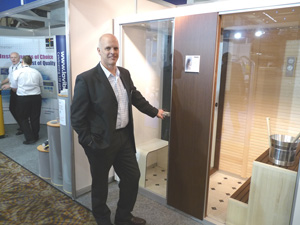 Shaun is pictured on the Tylö stand with the Impression ix210.
Tylö
UK distributor Golden Coast decided to take a break from its traditional stand taking up half of the ground-floor area below the balcony, and this year elected to book a small booth on the edge of the main exhibition area to focus on its premium Tylö brand for sauna and steam products.
The highlight of the stand was the Tylö Impression ix210 combination sauna, steam and shower. By providing separate dry and wet areas in a single cubicle, the Impression IX210 reckons to overcome the inherent problem of mixing dry hot sauna and temperate steam, enabling bathers to select their preferred bathing experience. The unit also incorporates an integral thermostatic mixer-controlled shower.
Available with single or twin benches, with the sauna area capable of being configured with a stepped bench if required, the modular construction of the Impression ix210 allows a variety of configurations to be achieved, including either a left or right hanging door, to fit the chosen location. The unit is supplied ready plumbed and wired for connection and takes up little more floor space than a corner bath.
Golden Coast director Shaun Adams
commented:
"The Tylö brand is here in its own right, as over the years we have established a strong presence for Golden Coast as a distributor. The Impression range is opening up possibilities for high-quality installations offering the best of both worlds."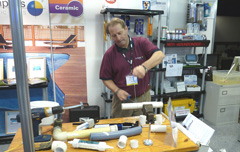 Unipools
As usual at Spatex, Unipools conducted a lively demonstration of several products, although the company was focusing on existing products rather than new developments. Engineer Mark Casson is shown demonstrating a wire
to cut PVC pipe.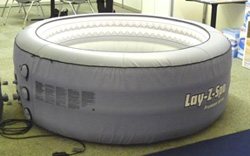 Wilton Bradley
Although they were stuck out on one end of the show display area, Wilton Bradley's Lay-z-Spa attracted significant attention. Designed for up to four people, the Lay-z-Spa inflatable home spa has 80 massage air jets, plugs into the standard domestic electricity supply, inflates using the spa pump, and comes with a heavy duty repair patch kit.
If your company was exhibiting new products at Spatex and has not been featured here, please email
[email protected]
with your information, and we'll be glad to provide an update in our next email newsletter.