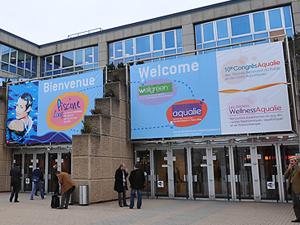 Bringing together for the first time three shows within a single event, the major worldwide rendez-vous for the pool sector has asserted its relevance, both in terms of number of exhibitors and visitors attending the event and also by the quality of the contacts made. The testimonials clearly identified Piscine 2008 as being the leading event in the industry and a driving force for the sector: "
Piscine is the event that best reveals the future trends
" according to
M. Rizzo from MY YOUR
, "
Piscine is THE best indicator for Europe!
" adds
M. Arafa from Triogen
.
Professionals massively attended the event, offering many important innovations. There were also many visitors, with specific projects or seeking answers. Overall, the three shows welcomed, 653 exhibitors, up 5% compared with 2006, over a surface of more than 32000 m², up 7% compared with the previous edition.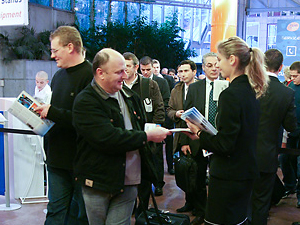 Always more numerous, this year international visitors represented 34% of the public. Although the European Union was strongly represented on the different shows, many countries showed a marked increase in 2008:
• visitors from Tunisia, Morocco and Algeria have increased twofold;
• the Arabian Gulf was also well represented with an increase of 34% in the number of visitors from the region;
• visitors from eastern Europe were also present with + 46% professionals from Romania, + 44% from Ukraine, + 31% from Croatia…
After meeting with such success, the dates for the next edition have already been announced: from November 16th to 19th 2010. Held alternately in Paris and Lyon the Aqualie show will open its doors on December 1st and 2nd 2009 at the Paris Parc Floral venue.
Piscine 2008 show: the major French and international event for the professional sector of domestic swimming pools and spas
Boasting a strong international dimension, the Piscine show attracted many professionals from all parts of the world. A total of 510 exhibitors, amongst the leaders in the market, attended the event in order to propose their latest innovations as well as the products designed to satisfy tomorrows' trends. In terms of visitors, pool builders and distributors (more than 50% of the international visitors), installers, importers… were present, and came from all parts of Europe, the United States, Australia, Dubai and "
even from Singapore
" as remarked
M. Teixeira from the Portuguese spa company PORTCRIL
.
Concerning the key figures, it is interesting to note an increase of 21% in decision makers (architects, decorators…). It is interesting to note that distribution networks also come shopping at Piscine (+30% visitors for supermarkets/DIY stores and other distribution channels, including trading). The progression in numbers of international visitors confirms that Piscine has become the most representative market place. As an illustration of this success,
PERAQUA
, manufacturer of accessories for swimming pools, reports: "w
e noted more visitors than expected and of impressive standing
".
Aqualie 2008: the exceptional event for swimming pool and spa manufacturers, also for pool equipment manufacturers
For its second edition,
Aqualie
asserts its position as the only event capable of bringing together designers of public and private swimming pools, designers of spas and suppliers of technical and decoration equipment. Held at the same dates, the Aqualie Congress brings together approximately 200 operators of private and public pool facilities. The 78 exhibitors noted a strong representation of the territorial authorities, represented by 500 representatives, who are always looking for new creative equipment to satisfy their clients and users. The emphasis was also placed on the international dimension, as noted by
M. Sanchis of the Spanish company EXAGRES
: "
the show enables us to reach other countries: 50% of our contacts are international
".
In order to satisfy the requirements of a booming market, Aqualie will return in 2009, on December 1st and 2nd at Paris Parc Floral venue.

Wellgreen 2008: the event for designing and highlighting pool surroundingsFor its first edition, the Show for Outdoor Design and Amenities
met with great enthusiasm from professionals, in particular from decision-makers (landscape designers and architects) but also from pool specialists and professional distributors seeking to diversify their technical offering. The visitors appreciated products proposed by top brands in lighting, outdoor furniture, tiling, green space designing. Among the 65 exhibitors, major players had set up impressive stands.
MY YOUR
, manufacturer of outdoor furniture and accessories confirms: "
We are targeting France because it has "la cultura della piscine", we are quite confident as to our perspectives in France and also elsewhere
". Another company,
Flag
, is even more confident:
"For the Mediterranean people, their garden, their house and their pool must be impeccable… 2009 will not be an easy year, but we'll be back to normal by 2010. Despite the crisis the sector is quite dynamic and will respond energetically!
".