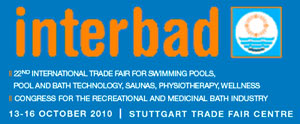 It will be still 9 months before market leaders from the swimming pool, sauna, spa and wellness industries present their products and services to the trade visitors at the new Stuttgart Trade Fair Centre from 13 to 16 October 2010. Despite this, interbad, the European trade fair for the public and private sphere, has already seen almost 200 registrations and reservations, a repeat of the previous event's success.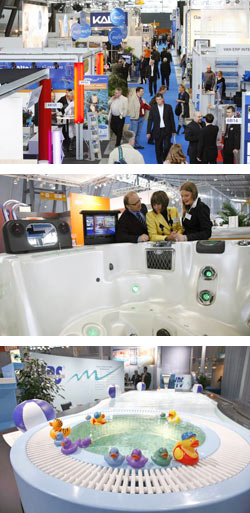 "
After the record of international exhibitors at the last event, all signs are pointing towards continued success at the upcoming one, despite a difficult economic situation
", says
Frank RÖDER
,
Messe Stuttgart project manager.
"
With an exhibitor record and an 8.5% increase of visitors in comparison to 2008, it is clear that we have made a lasting impression on the industry. This is why

nearly 200 exhibitors, all looking to secure their stand placements for 2010, have already registered for the trade fair 9 months before it even starts

. Our international trade fair is a

mandatory event

for the industries, even in economically difficult times
".
Messe Stuttgart
and, as co-organiser, the
German Association for the Recreational and Medicinal Bath Industry
are optimistic about the future despite the economic storm clouds which have already gathered. The recession has indeed left its mark on the swimming pool and wellness industry yet interbad remains a firm feature on the marketing calendar of many market leaders.
One reason for this high level of trust from the companies is certainly the trade fair's
linear concept
: interbad, one of the most important international industry meeting points for the public and private sphere,
consistently focuses on the four columns of swimming pools, saunas, spas and whirlpools
. The organisers are intentionally focussing on the clear concept of the international trade fair, which covers both the public and the private spheres of swimming pools, saunas and spas.