AstralPool's wellness division was responsible for designing and equipping the balneotherapy area of the Banyan Tree Costa Navarino hotel that is currently being built in Greece and whose opening has been planned for 2012. Located in the Peloponnese region, to the southwest of the country, it will cover an area of 825 m2, which will make it one of the largest facilities of its kind in Europe.A wide range of health, wellbeing and beauty treatments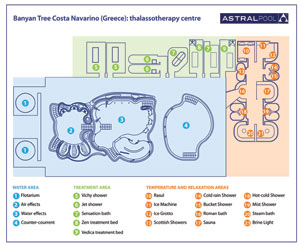 The thalassotherapy centre will offer a
wide range of health, wellbeing and beauty treatments
based on the
use of seawater and other substances taken from the marine environment
, such as seaweed and mud, as therapeutic agents.
The facility is divided into four areas: temperature area, water area, relaxation area and treatment area.
The
water area
is at the heart of the facility and a therapeutic circuit has been designed made up of three swimming pools with leisure water features such as cascades and massage jets. In addition, two floatariums have been included in which one is able to experience the healing and anti-stress effect of zero gravity.
Next comes the
temperature area
that has heat fixtures, a sauna, steam bath, and a Roman bath as well as a cold chamber with an ice fountain. There are also showers that provide a number of options (cold shower, hot and cold, nebulised and Scottish).
The
relaxation area
is found next to the temperature area and has been specially adapted for colour therapy with LED lighting and heated loungers.
In
the final stage of the circuit
, there is a treatment area in which users can take advantage of the massage cabins with Vichy showers, Kneipp showers and hydrotherapy baths.
All of the facilities at the Banyan Tree Costa Navarino hotel's thalassotherapy centre have been specially designed to be used with seawater.
AstralPool's wellnessdivision has designed a facility that is in perfect harmony with its incomparably beautiful surroundings to provide the comfortable, relaxing atmosphere that visitors seek.
Equipment in the thalassotherapy area in the Banyan Tree Costa Navarino hotel in Greece:
Three seawater pools with
Hydromassage loungers
Hydromassage benches
Hydromassage jets
Massage water nozzles
Cascades
Two floatariums
Two Vichy showers
Two Kneipp showers
Two sensation tubs
One Vedica treatment bed

One Zen treatment bed
One rasul
One ice fountain
One cube shower
One cold rain shower
Two Scottish showers
Two nebulised showers
Two hot-cold showers
One steam bath
One sauna
One Roman bath