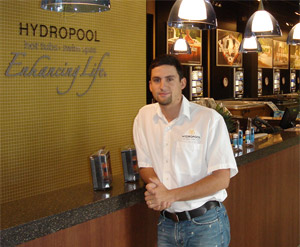 Hydropool Industries, Canadian manufacturer of spas, has just celebrated its 30 years in the business. As he was passing through Europe, we took this opportunity to interview Cédric Noslier, the new Territory Development Europe Manager for the brand, who is looking for new partners to complete its teams:
EuroSpaPoolNews :
« Cédric Noslier, Hydropool Industries is celebrating in 2008 its 30 years of leadership in the business. How did it happen? » Cédric NOSLIER
: "In 1978, Hydropool Industries evolved from a commercial swimming pool company to a hot tub manufacturer and retailer. By 2008, Hydropool has grown to become one of the largest hot tub and swim spa manufacturers in the world with its Global Headquarters in Toronto, Canada and its European operations (storage warehouses, technical services, training centres) being carried out from France. Hydropool's competitive advantage is a business model focused on being a valuable long-term business partner with its retailers. We combine our extensive retail expertise with what we have learned from our retail network to provide our retailers with a comprehensive sales and marketing success system to help grow their businesses. Forming win-win relationships with our retailers has helped us to form a loyal retail network of more than 240 retailers in over 40 countries around the world and maintain a leader position in Europe where our influence has already been present for almost 20 years."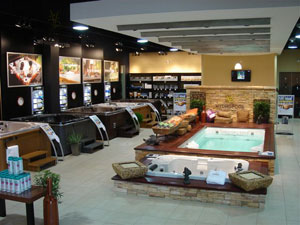 ESPN :
"Tell us more about your product range!"
CN
: "Hydropool provides our retailers with 6 ranges of hot tubs and swim spas that meet the needs and budgets of virtually all levels of customers. Hydropool offers our retailers over 25 models of hot tub and swim spas available in a variety of colors, options and upgrades to ensure that their showroom has something for everyone."
ESPN :
"What is your secret to remain one of the leaders in this business? "CN
: "Innovation is the key to easy sales. Hydropool is committed to being an innovative leader in the Hot Tub and Swim Spa industry. Our focus on research and development has resulted in a number of exclusive technologies that arm our retailers with the weapons required to win the battle in their marketplaces. These features include Self-clean ®, Thermo Loc ® Double Thermal Shield, « Intelligent massage » concepts and Quick Drain Systems. These unique features provide retailers with the easiest hot tub to sell ! "
ESPN :
"Despite a network with more than 240 retailers and a presence in over 40 countries, you are still looking for more business partners to spread your network, aren't you?"
CN
: "Yes indeed, we are always willing to complete or renew our teams.
I take advantage of this discussion to tell our future partners they can reach me directly by e-mail at

[email protected]

before we get to meet in their country.
"