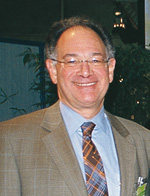 Robert Davis,
president and chief executive officer of Hayward Industries
ELIZABETH, N.J., (October 1, 2008) -
Hayward Industries, Inc. today announces the acquisition of Summit Pool Heaters, a major Canadian heat pump manufacturer. Hayward intends to fully integrate the company's product line into its global sales and marketing organizations prior to the start of the 2009 pool season.
According to
Robert Davis, president and chief executive officer of Hayward Industries
, this most recent acquisition is another concrete example of Hayward's business philosophy of using strategic acquisitions to expand the company's global market presence.
"Our continued assessment of current market conditions and future trends shows a strong potential for pool heat pumps in both new construction and aftermarket pool sales,"
says
Davis.
"The addition of Summit's product line offers both dealers and consumers another high quality, energy efficient heating option from Hayward and will help us meet customer demand in the United States, Canada, Europe, and other regions of the world."
Under the ownership of brothers
Stéphane and Pascal Tailleur
, Summit has been manufacturing heat pumps for more than 10 years. Together, they have built a strong reputation across North America for performance, reliability and energy efficiency.
"Our attention to detail and quality control has made Summit a popular choice with dealers across Canada,"
says
Stéphane Tailleur, president of Summit.
"We are excited to become a part of Hayward and leverage the resources of their strong sales and marketing organizations. Through this merger, we can expand our manufacturing capabilities in Quebec and deliver our product around the world."
According to Davis, both Stéphane and Pascal will remain with Hayward Industries in key management roles to ensure a smooth transition in advance of the 2009 pool season. Davis also stated that Summit's product offerings are an ideal complement to Hayward's highly successful pool heating products which include the HeatPro™ heat pump, part of the company's Energy Solutions product line.

Hayward Industries is headquartered in Elizabeth, N.J. and in Europe; Hayward is based in Saint Vulbas (France): www.hayward.fr