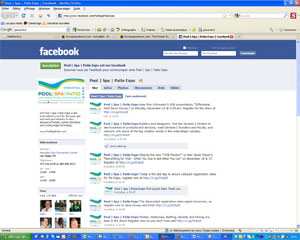 Pool, spa and backyard professionals seeking the most up-to-date show information have more options than ever with the additions of pages on social media sites Facebook, Twitter ad LinkedIn. Attendees, exhibitors, speakers, press, vendors and other industry colleagues are encouraged to become active users of each site. There is no charge to join any of the sites.
Launched May 15, each site was created as a supplement to the show's comprehensive website, as well as the traditional marketing efforts that include e-communications, direct mail, advertising, public relations, voice marketing and telemarketing. "
The addition of our social media sites is an aggressive move to educate our attendees and exhibitors
," said
Donna BELLANTONE, Director of the Expo.
"
We want our show participants to use it not only for the most up to date show news, but also to connect with fellow industry colleagues
."
Covering the full spectrum of general show information, short, frequent and instant updates will be posted covering information about show highlights, special events, the educational conference, housing, registration ands exhibitors, as well as much more.
On the show's Facebook page, located at
www.facebook.com/PoolSpaPatioExpo
, users can become a "fan" and read the daily postings, browse through photos from past shows, write a review of the show and watch the show video, as well as interact directly with Show Management and fellow fans.
"
Our members who are taking advantage of APSP's own social networking site, MyAPSP.org, already know what a useful tool social media is
," said Bill WEBER, President and CEO of APSP, the show's official sponsor. "
Anyone can join MyAPSP.org and then easily access the Expo's Twitter, Facebook and LinkedIn pages from one place on MyAPSP
."
Press release