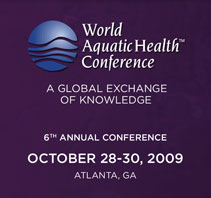 The 6th annual World Aquatic Health™ Conference (WAHC™) kicks off in less than a month. This must-attend event features 2 keynote presentations, 6 educational tracks, 47 seminars and roundtables, in 2 days.
Can't attend in person? We bring the conference to your own computer! Sign up for seminars available post-conference, on-demand. Purchase your access codes and you can view them at your leisure.
Two Educational Tracks You Won't Want to Miss
> Health Benefits
The body of evidence supporting the benefits of getting into pools and hot tubs is growing each year as NSPF and others sponsor and fund research. These seminars share the latest science that will provide compelling examples that you can share with clients, customers and prospects that explain how using hot tubs and pools benefit physical and psychological health.
How swimming reduces risk of chronic disease
The benefits of immersion and aquatic exercise for arthritis sufferers
Understanding and reducing low back pain with aquatic interventions
A comparison of how hot water immersion affects the nervous system, looking at older and younger populations
Aquatic effects on physiologic and psychologic parameters in an asthmatic population
Known benefits of aquatic exercise for seniors
Water rehabilitation through progressive aquatic therapy programs
Health and psychological effect of land and aquatic activity for those with Type-2 Diabetes;
Swimming upstream in the river of time: water, exercise & aging
> Profitable Facility
Now, more than ever, aquatic facilities need to become recession-resistant to avoid closing. This track seeks to help aquatic professionals learn how to make their facilities profitable.
Why pools close?
The four pillars of aquatic programming to help facilities be sustainable
The basics of building, expanding, or renovating a facility
Make a Splash Initiative: how it connects the community
Balancing learn-to-swim curriculum and economics
Improving sustainability by attracting and teaching people who are afraid in the water
Incorporating vertical aquatic fitness programs to improve profits
How aquatic therapy & rehabilitation improves facility sustainability
Risk management: a little bad can erase a lot of good
In this global exchange of knowledge, you will hear from experts on recreational water illness, aquatic design and programming, drowning prevent, risk reduction and entrapment, green technology, new industrial technology and aquatic health benefits. Plus, you will be able to identify new opportunities and network with attendees, presenters, and NSPF team members about emerging trends and issues.
Press release