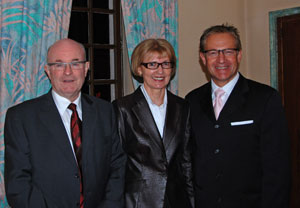 Christian
BLERY
, Jacqueline BLERY and Dr Thomas FAISST
Christian and Jacqueline Bléry established UWE France in Meung/Loire in the end of 1975.
Christian, who handled the marketing side, and his wife Jacqueline, who was responsible for the administrative side, will retire 34 years after setting-up and consolidating the brand and UWE products (34 000 JetStream sold in 34 years) in the whole of France… a well deserved retirement.
On 2 October,
Dr. Thomas FAISST
, Chairman of the German parent company along with his wife and
Wilhelm NUSSBÄCHER
, the Executive Director, went over to celebrate Blérys' retirement at Meung/Loire and to thank them for the excellent results produced year after year.
Maria CHIMOT-TREUNER
as the General Manager and
Daniel MULLER
as the Marketing Manager have taken over the flame and the challenge.