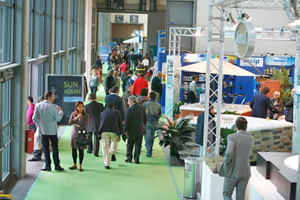 Sun, 27th International Exhibition of Outdoor Products, design, furniture and accessories will be held in Rimini from 8 to 10 October 2009.
A gallery of unique and inimitable events guide the audience into a journey of exclusive experiences and visions. SUN has identified and developed 4 major conceptual addresses which create strong and impactful thematic routes: Outdoor Design, Talent Show, Outdoor Contract, Urban Design & Living.
Like every year a pavilion (C1) is dedicated to the world of pool and spa.
it's the SUNAQUAE.

Among the exhibitors can be found A. di Arcobaleno, Artesian Spas, Castiglione Relax, Estensia, Fabarpool, Grandblu, Jacuzzi, Manufacturas Gres, Meip International…


Finally there will be many exhibitors of furnishing pools: flooring, synthetic green, showers, lounges, chairs, cushions, tents and umbrellas, vases...
Here is the link to download the
"FREE INVITATION"
; with this, printed, you go directly to the turnstiles without passing the ticket >>
https://forumweb.bestunion.it/eventi/SunGioSun2009/home.asp