Terrapin Communications, Inc., maker of Safety Turtle, a personal wireless immersion alarm designed to protect young children, seniors, disabled persons and pets from drowning, has announced that its product has been adopted by YMCA and other aquatic facilities to automatically alert the front desk of a water rescue by one of its lifeguards.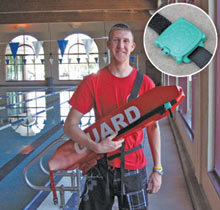 This product also affords a layer of protection for rehabilitation patients who exercise in water. They wear a Turtle sun visor or a Turtle headphone for musical accompaniment. A Turtle instantly detects immersion in water, and then transmits a signal that sets off a loud alarm at one or more Base Stations.
It is the
only product on the market satisfying insurance underwriter recommendations
that a portable aquatic-emergency summoning device should be used instead of a hard-wired emergency button or telephone in a public pool area.
A Turtle attached to each lifeguard rescue buoy, which always goes into the water during a rescue,
allows a single lifeguard to respond nearly immediately to an aquatic emergency
, rather than having to travel from where s/he was standing to the emergency call button and then to the distressed swimmer.
The Safety Turtle personal immersion type pool alarm and wireless gate alarm were presented and demonstrated by a CPSC water safety spokesperson on a CNN pool safety feature that aired Saturday July 14, 2007. The segment is on Terrapin's web site, along with Oprah and other media articles and airings featuring Safety Turtle.