Launched last year, the selective distribution network of the SpaFrance brand – a separate entity to Procopi – is based on a simple concept: to give those of its clients who wish to sell spas access to a specific range and a comprehensive marketing environment.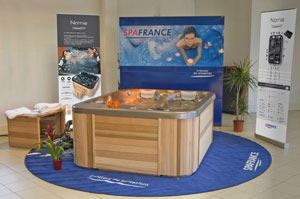 A Spafrance showroom
The resellers' showroom must display a minimum of 3 spas from the brand, one of which must contain water so that clients can try it out. The network is based on a partnership with 1 to 2 distributors per department, provided each one has a display area and a marketing environment to promote the SpaFrance products.

The Procopi group provides effective marketing tools (samples, PLVs, technical charts, as many catalogues as required, etc.) in order to achieve consistent marketing communication at all sales outlets. A marketing commission consisting of 7 members (marketing director and 6 representative partners) meet regularly to discuss any points brought up by the resellers, to assess clients requirements and trends.

The network currently comprises 52 partners spread throughout France, Guadeloupe and Belgium. The target for the end of the year is to increase this figure to 90 and to expand in Europe, particularly towards Spain, the UK and Germany.