Following an assessment, BIO-UV has been selected to provide all public swimming pools (a total of 7 establishments) managed by Geneva in Switzerland with equipment containing medium-pressure lamps.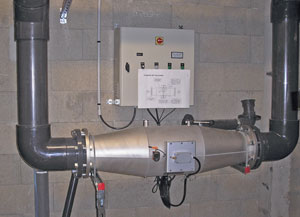 A BIO-UV installation


Benoît Gilmann
, CEO of
BIO-UV
, said: "
We are delighted to have been chosen by the city of Geneva. With over 1,000 pools already equipped in Europe, of which 500 are in France, dechloramination by UV light is by far the most commonly used technique and is also to the complete satisfaction of the swimmers, staff and management of these establishments.
"
The scientific research over the last 5 years, the French and international publications and the analysis campaign initiated by the French Ministry of Health and the DASS have all shown that, when using UV lamps,
medium-pressure lamps have the most conclusive results
on the reduction of trichloramines. These latter are a component of combined chlorine and one of the most harmful by-products to the health of swimmers and staff as well as a source of numerous public health problems.
Furthermore, it is now well recognised and proven that, when properly installed,
UV lamps do not generate any additional by-products
such as THM, and this includes medium-pressure lamps.