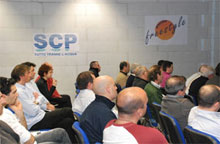 The first Freestyle Day took place on 10th and 11th March 2009 at SCP Italy in San Bernardo d'Ivrea (TO).
The event which was for Authorized Freestyle Retailers only, represented an important opportunity to present the main characteristics of the innovative construction system of insulated reinforced concrete Freestyle swimming pools.
Over 30 companies from all over Italy took part in the seminar split into 2 days with an interesting demonstration on the assembling of the structure and all accessories.
The congress was launched by General Manager
Luigi BERTOT
, who kicked off with the global presentation of SCP Italy, followed by several speakers who in detail illustrated all the technical and business-related aspects of the
new "FREESTYLE" program
.
The overview of the 2009 price list was of great interest
with as many as 80 swimming pool models, already designed and modifiable according to the needs of the end user.
Each participant was handed out a "Free Style working KIT"
, divided into various sections and planned to entirely cover all strictly technical issues such as those related to MKTG and Business.

The two days devoted to the presentations finally ended with a round table for an in-depth analysis of certain technical issues and with a pleasant dinner party to mark the end of the works.