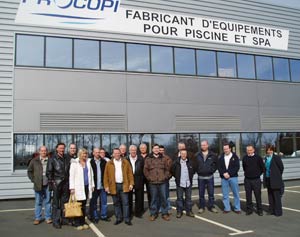 Procopi UK recently hosted a trip to its Brittany manufacturing plants for a number of UK pool dealers. The visit was designed to raise the profile of Procopi UK's product range and demonstrate the quality of manufacture.

The visit began at Guingamp with a tour around the injection and extrusion factories for polymer panels and slatted safety covers, moving on to the cover and liner factory at Le Rheu. The final stop on the trip was a visit to the Pleumeleuc plant which produces the Climexel range of heat pumps and dehumidifiers.

It wasn't all work though, as the participating pool dealers were able to take advantage of the renowned Breton cuisine and liquid refreshment, and enjoy a walk around the cobbled streets of St Malo to end the trip.

Procopi UK plans another trip later in the year, and anyone interested can call the company on +44 (0)1622 832800 for further information.