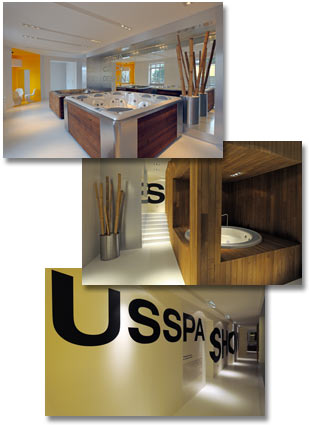 After more than half a year of reconstruction, a new and expanded showroom for spas created by USSPA, the first Czech spa producer, was reopened.
The showroom is located in the company's headquarters in
Dolní Dobrouč
, right in the factory, where the models are produced but also designed and developed. After Prague´s showroom, which was fully built in contemporary architectural style, this one also has a new design.
Thanks to
architect Michal KUNC
, the primarily limited disposition of several rooms in the building from the beginning of last century were turned into interesting elements of interior, which gives to the whole project diversity and a nonrecurring atmosphere. Who would believe today that during the Second World War it was an apartment, or that 11 years ago the place served as canteen and kitchen furred by Formica?
This attractive showroom, which is truly original, is a gallery created in
contemporary minimalist style
: USSPA´s spas fit perfectly into the clean lines of this interior which consists in a few interestingly united rooms and a garden, where customers can try out a spa in its natural setting – in the open air.
19 models (the complete production of USSPA) are available, all of which belong to 4 different ranges and are displayed on a 500m
²
surface (including a garden).
Four models are in operation and ready for use.