Cal Spas announced today that it has launched a yearlong celebration to mark its 30th anniversary in the spa and home resort products industry.
As part of the celebration, a 30
th
anniversary logo will appear on all marketing, advertising and public relations activity and serve as a focal point of the company's upcoming tradeshow exhibits.
Cal Spas will also unveil several new innovations this year
, including the
new line of hot tubs Genesis
that has been launched in January.
The Cal Spas Story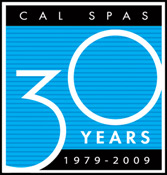 The
Cal Spas
story began 30 years ago at a crowded county fair. The year was 1978 and California Acrylic Industries was a Pomona, California based pool builder in need of a way to exhibit a large variety of pool designs in a small space. To solve this dilemma, the company created small scale versions of its formed acrylic pools and put them on display for customers. The miniature pools sparked interest and the company began to receive special requests for acrylic hot tubs. A year later, with the company's hot tub business growing, California Acrylic Industries took a leap of faith. The company stopped building pools to focus full-time on the hot tub business-and
Cal Spas was born
.
Today, the celebrated hot tub maker is world renowned as leading Global Manufacturer of Home Resort Products. Cal Spas produces premium collections of lifestyle products from its headquarters in Pomona, California and distributes worldwide through a network of specialty dealers. The
Cal Spas
brand family of products includes Cal Spas hot tubs and swim spas, Cal Designs gazebos, Cal Heat indoor and outdoor saunas and Cal Flame high-end outdoor grills and hardware, barbecue islands, outdoor fireplaces and firepits.
From its simple beginnings selling swimming pools to its future in the homes of families as the only complete outdoor outfitter,
Cal Spas
remains committed to serving its customers around the world with: first-rate service, offering quality products at an unbeatable value and keeping tradition of redefining the Home Resort industry through innovation while creating new ways to enjoy the outdoors.