Last December, the French company CLAIR AZUR, distributor in France of the Hydropool brand, presented an exclusive at the Pool and Spa Event in Paris - a new system for programming the dispensing of well-being treatments for spas. Laurent BESSON, Director General of the company, told us the working principle of this innovation when we met…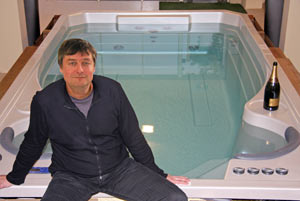 Laurent BESSON

EuroSpaPoolNews.com: How and why did the idea of developing this programming platform for well-being treatments for your spas occur?Laurent BESSON
: We worked in collaboration with physios other therapists regarding the use of hydrotherapy equipment in our systems. Well-being sessions are now directly automated on our control panel. We chose to simplify the way in which this worked by including 5 programmes: each user can choose and implement their programme, according to the benefits they wish to obtain. The pool can then precisely manage the pattern of bubbles and air, which is fully automated, to dispense the selected treatment. This is a real advance because until now, when one purchased a spa, one had to press and hope for each of the various sequences. You didn't know exactly where you were, there was a lot of trial and error, whilst you tried to follow the guide.
EuroSpaPoolNews.com: So now you just have to select for example "back ache"…Laurent BESSON
: Yes, you press the programme, and phase 1; "initial relaxation" will begin, with 5 minutes on this jet setting. Next come phases 2, 3, and 4… which last about the same time each.
EuroSpaPoolNews.com: And what precisely are the programmes available on your new platform?Laurent BESSON
: Heavy legs, sports rehab, back ache, anti-stress and awakening are the 5 programmes we have implemented. Depending on what you want to do, between morning and evening, you won't necessarily want to use the same programme.

The programme platform
EuroSpaPoolNews.com: Is the system aimed therefore at professionals as well as individuals?Laurent BESSON
: We are in fact researching the protocols, as treatment pools are also an option: we will therefore be able to enter into a treatment protocol, above and beyond relaxation. It is no longer just a relaxation tool; it is also a treatment tool. With thalassotherapy, you are actually entering a treatment pool...

EuroSpaPoolNews.com: How long is it since you launched this concept and how was it received?Laurent BESSON
: We launched its development 2 years ago, and the programming platform was one of the newest items at this year's Paris gathering. As for its reception, it was excellent as the platform can also be retro-fitted to our previous models. We will therefore offer all our new and existing clients the option to have sequential programme automation. It only takes a 2-hour visit from an electrician to update the older devices: nothing else changes, just the electronic platform with controls it all, and very quickly you'll be able to manage the programmes implemented.