RENOLIT ALKORPLAN RELIEF is a range offering a vast variety of colours and textures with anti-slip properties, designed to provide safe, aesthetic linings for swimming pools.
A safe and aesthetic reinforced membrane
The anti-slip properties of these reinforced membranes have been certified following testing on bare feet, on wet ramps, and even pendulum adhesion testing (measuring heel slip resistance) in order to meet the requirements of European and international standards DIN 51097 Level C, UNE 41901 Level 3 (maximum) and EN16165 Level C.
The choice of a wide variety of colours, from the most traditional to the most sophisticated, enables personalised pool design with colder, warmer or natural shades to suit individual tastes.
7 colours are available: sand, white, sky blue, Adriatic blue, Carlisle, grey and dark grey.
At a thickness of 1.8mm, the RENOLIT ALKORPLAN RELIEF reinforced membrane offers superior flexibility, ideal for adapting to any pool shape. It comes in rolls of 25m x 1.65m to facilitate installation throughout the entire pool.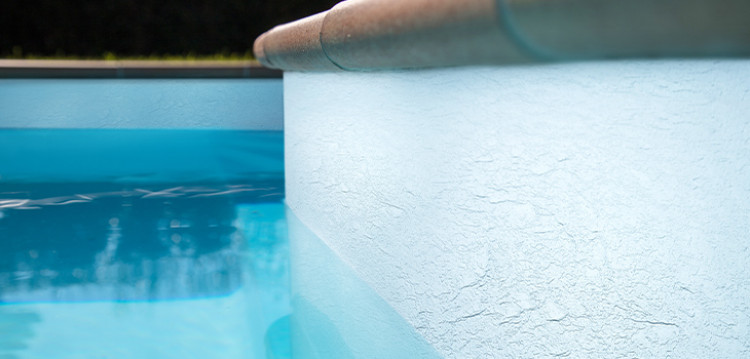 Renolit Alkorplan Relief reinforced membrane in light blue