Among the world leaders in the swimming pool industry, with innovative solutions in the fields of pool safety, robot cleaners and water treatment products, Maytronics was launching in Lyon this year, alongside its flagship products, several novelties including two in Dolphin cleaning.
New Dolphin LIBERTY range
Dolphin LIBERTY, a new generation of cordless robot pool cleaners, featuring inductive charging. Several models make up the range, some powered by lithium-ion battery and solar power. Easy robots, which start with a simple one-touch operation, are connected WiFi connected, offer an Eco mode to maintain a clean pool for up to a week on one charge, thanks to three separate 30-minute floor cleaning cycles, clean stairs with jet power ... They also have a very practical feature with autonomous cleaning, without human intervention.
Dolphin LIBERTY is available in 200, 300 and 400 models, with their active brushes, their transparent cover inviting you to check the clogging state of the filter without getting your hands dirty, and also with LED lights to illuminate the pool at night.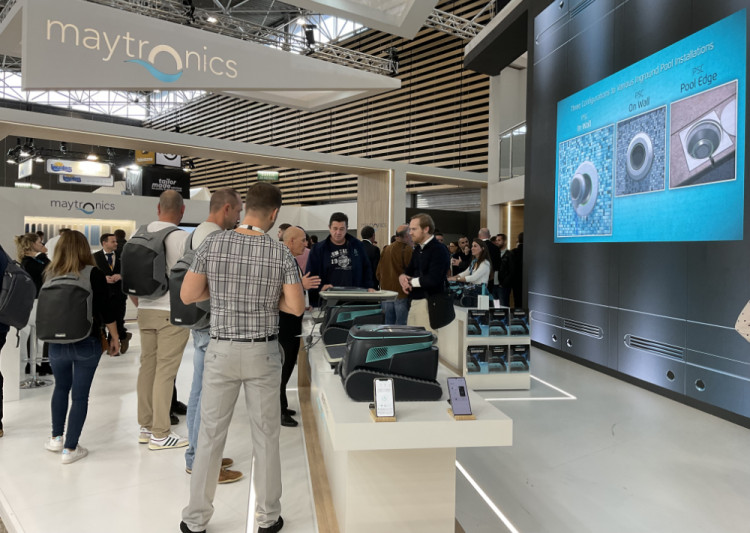 La gamme Dolphin LIBERTY sur le stand Maytronics à Piscine Global Europe 2022
With the Dolphin LIBERTY 700s model, other intelligent features are added to the robot, for example to set up personalized cleaning programs to fit the pool, or even connect the robot to the cloud, via a cellular SIM card. This last function makes it possible to manage the configuration of the pool cleaning from anywhere in the world.
This robot is powered by a lithium-ion battery pack lined with a solar panel, providing continuous power to the robot (2 rechargeable batteries).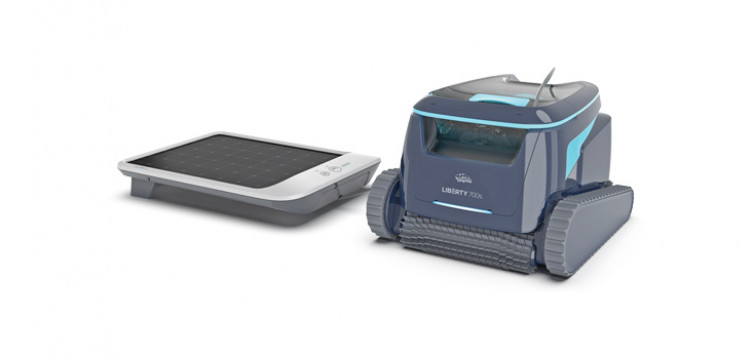 Dolphin LIBERTY 700s
Innovative and smart cleaning system
Poolside ConnectTM from Maytronics is an innovative solution offering a new Dolphin pool cleaning experience. An underwater induction transmitter supplies constant power to the robot cleaner. It also allows communication between the Dolphin robot and the dedicated smartphone application. Through this app, the user can start cleaning cycles, select different cleaning options, program cleaning schedules, receive notifications on the filter status, etc. The robot is always powered, while the pool deck is free of cumbersome cable.