The Vitalia Premium Silent Flow heat pump (see the 2023 CF Group catalogue) has been designed to offer a high yield for pool heating, while reducing acoustic emissions in order to preserve bathers' comfort.
Elegance, performance, silence
Thanks to the Full Inverter technology, it can progressively adjust its energy consumption and offer a COP of 15.8 (air 26°C / water 26°C / humidity 80%), i.e. a heating capacity of 15.8 kW per 1 kW consumed!
Several of its components substantially reduce noise around the heat pump. It has been designed with rear ventilation to direct the cold air released, and its acoustic emissions are also directed towards the rear of the machine for obvious acoustic comfort.
In addition, the heat pump is equipped with the Silent Flow technology, combining reinforced insulation, direct current adjustment (compressor and ventilator speed total control) and a double rotary compressor (limiting vibrations, in addition to its anti-vibration legs).
The average acoustic level of the Silent Flow at a distance of 10 m is 32.9 max. and it can be reduced to 16.8 (low-speed silent mode).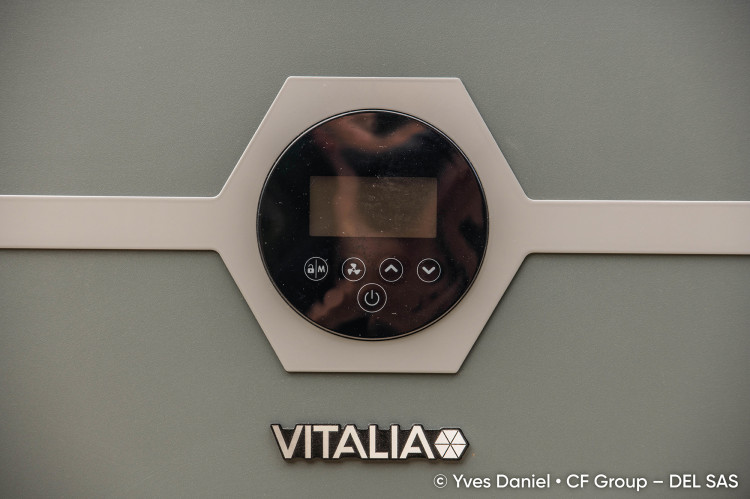 PAC Silent Flow
This heat pump operates on R32 Green, which drastically reduces pollutants and heats the pool from -12°C. This means that swimmers can use their pools all year round (reversible heat pump). It comes in 6 models to heat pools measuring from 20 to 90 m³.
The Silent Flow is also a connected heat pump, which, in addition to intuitive Touch Control on the device, enables remote control via a dedicated application.
Lastly, to remain visually discreet, the Silent Flow boasts a stylish aluminium alloy housing which easily blends into its outdoor environment.