Specially designed to be installed in a hotel room, Hotel Spa provides a touch of elegance with its hydromassages.

Hotel Spa: wellness in a hotel room
This spa is exactly what hotel professionals are looking for when it comes to improving the user experience and offering a distinctive range of services. The main innovation in this modern spa is the automatic filling system that guarantees total and fully optimised water renewal in just 30 minutes. Installed in a Spa centre, it is perfect for reducing the waiting time between guests to a minimum.
Thanks to its exclusive Silent Pump, Hotel Spa is ultra silent for a real moment of relaxation. It incorporates a 2 LED colour therapy programme, Colour Sense, which can be configured in colour for additional benefits.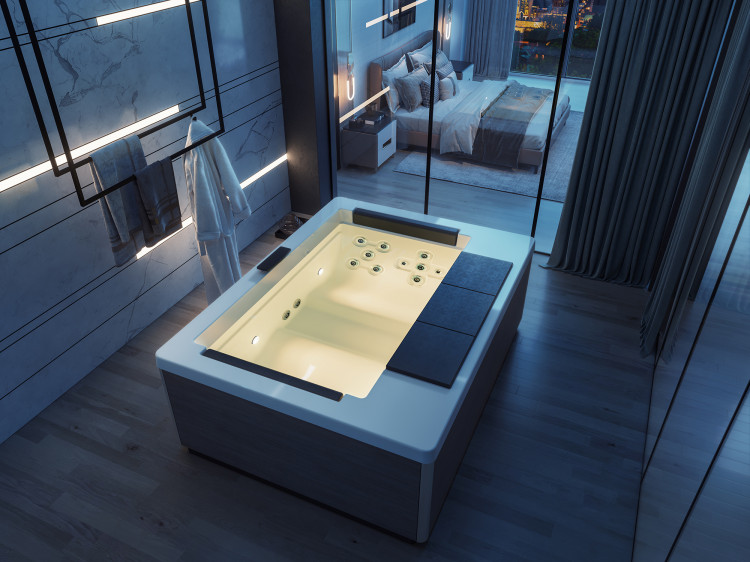 Hotel Spa by night
This spa can ideally accommodate 2 people, although in reality up to 4 users can enjoy its circuit of 4 different massage points. The massage points are equipped with generous and comfortable headrests.
Its dimensions, 215 x 174 x 75 cm and angular design make it easy to install. Its style will make it the main decorative feature of the room in which it is placed, enhanced by its original Pure Line Lighting (optional) and a Woodermax cabinet. The latter is completely smooth, but the spa can also be supplied with a structure designed to be recessed.
Whether installed in a beauty treatment area or adjacent to the room, it will appeal to the discerning tourist establishment.