The BWT Match Skimmer meets several demands in terms of comfort and installation, attracting pool users and professional installers alike.
Comfort and ease of installation for the BWT Match Skimmer
Installation has been perfectly thought out to simplify the installer's task. First, it is compatible with all liners, all configurations (high water level, mirror, etc), and all types of coping, including thin versions, thanks to its embedded telescopic frame. It possesses a socket to easily connect a winterizing gizmo, as well as a hydraulic outlet for a connector (50 or 63 mm) for a perfect seal. Its large-capacity overflow (50 mm diam.) easily evacuates rainwater, maintaining effective pool filtration.
BWT has also given it foolproof watertightness thanks to peripheral ultra-sonic welding, between the body and the extension, which remains above the water level. It remains totally leakproof even if the coping should subside.
The BWT Skimmer Match also provides quality performance through fast, effective skimming reinforced by Venturi effect suction. The water is better filtered and in silence. Its foldaway weir (a BWT exclusive) disappears entirely into the body of the skimmer when the water level is low, offering no obstacle to skimming and reducing the risks of unpriming.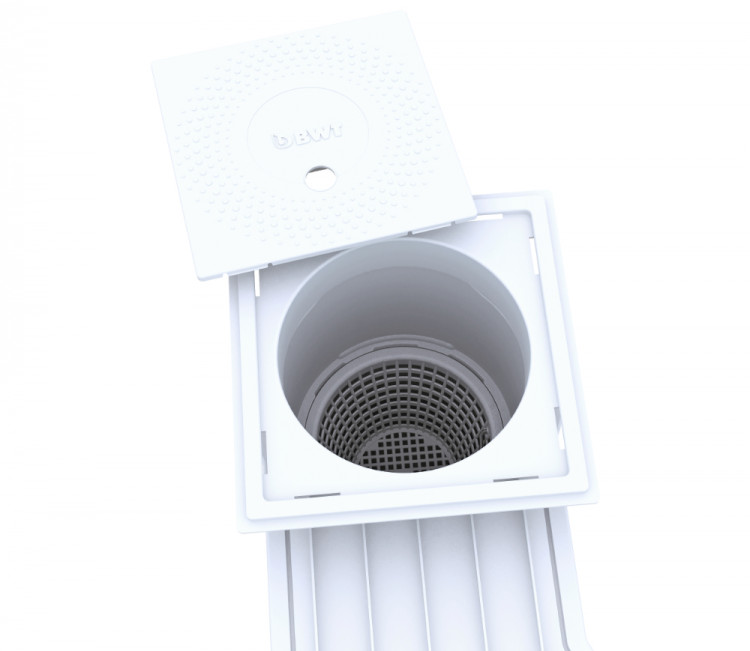 BWT Skimmer Match
Its large, ergonomic basket reduces washing for easy maintenance. It is equipped with a safety system to ensure the passage of water in case of clogging and to prevent it from being pulled out. Its rounded housing contributes to limiting algae formation and facilitates cleaning.
The aesthetic aspect has not been left out, with a choice of 10 colours for the skimmer, the mouth, face trim and weir, and 3 patterns and colours for the lid. The smooth, flush facade enables a slat cover to be rolled out unhindered. In addition, this skimmer does not require an end stop for the shutter, which stops mechanically when closed, without slamming.