Powerful and economical Swimming pool Heat Pumps from Cubic Electrical
The Supreme Full Inverter heat pump from Cubic is powered by their Inver-CORE Full DC Inverter technology. The series allows the users to vary the speed of the compressor and fan motor for optimum performance.
Main advantages of the Supreme Full Inverter Swimming Pool Heat Pump
The Inver-CORE technology drives the DC inverter compressor and DC brushless fan motor which leads to the stepless running of the whole system, and brings the most comfortable healthy & silent environment. The heat pump brings:
Higher C.O.P. 7.2 to 15.4 which saves energy and money
Ultra-quiet running
Soft start
DC Inverter compressor
DC brushless fan motor
Inver-CORE technology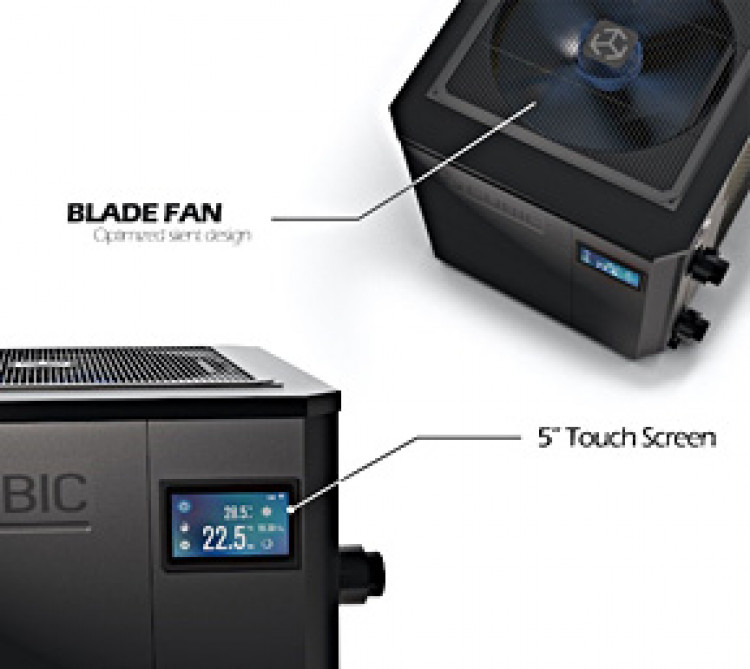 Blade fan with optimised silent design and touch screen of the Supreme pool heat pump
High quality components and materials to ensure performance and reliability
Twin-rotary DC Inverter compressor: the twin rotors balance each other for anti-vibration, which creates higher efficiency and quieter operation.
Brushless DC motor has a higher power to weight ratio, higher speed, easier for electronic control and lower maintenance. These characteristics lead the Inver-CORE heat pump technology.
Cubic Twisted Ti-heating exchanger: the tubing is made from pure titanium, and is virtually impervious to water chemistry damage. The heat exchanger has a large surface area that maximizes surface contact of the pool water and provides superior performance.
Swimming pool heat pumps that are easy to set up in every space and user-friendly
Supreme series heat pumps are perfect for pools with limited available space. Compared to the side wind heat pumps, top wind heat pumps only require minimal space.
The profiled fan blade optimizes quiet operation and efficient performance, and the 5-inch full touch-screen control panel provides simplified and enhanced operation.
The Chineese company also manufactures other ranges of products such as Eco Star+ Full Inverter Swimming Pool Heat Pumps, or Cubic iQ Swimming Pool Heat Pumps with attractive design.