An Inverter Pool Pump announced 20 times quieter than single pumps at full capacity
Compared with single-speed pool pumps, inverter pool pumps can be programmed to run at different running capacities, which is extremely energy efficient. They help to save on utility bills and do not cause unpleasant and high-pitched noise.
The InverSilence technology to filter the swimming-pool water
Aquagem was one of the pioneers in the industry to bring forth Inverter pool pumps on the market, and have been dedicating themselves to Inverter pool pumps R&D since 2017. In 2020, the company successfully launched the InverSilence Technology, with in particular the high performances and silent of the new XFlow Filter Pump. Owing to InverSilence Technology, Aquagem's new product the PFlow inverter pump is barely making a whisper when in operation.
A very quiet Pool Pump improving the swimming-pool experience
The PFlow Inverter pump is down to 36.6 dB(A)(at 1m) at 40% running capacity, which is 20 times quieter than the average regular single pumps that operate anywhere between 60-70 dB(A). It virtually eliminates unpleasant and high-pitched noise, providing the user with an ultra comfortable experience.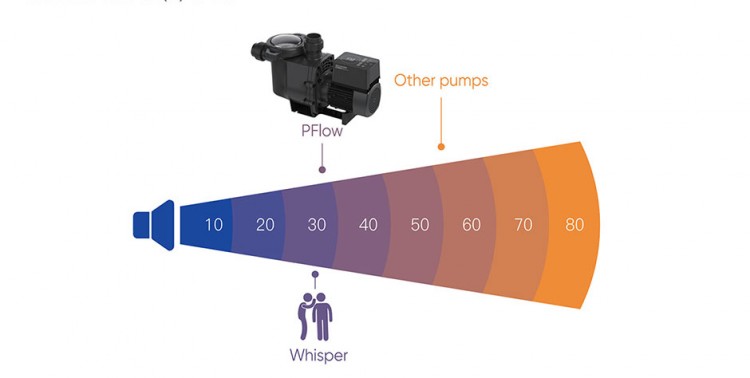 Aquagem comparative table of noise emissions with single pool pumps
Rapid payback thanks to substantial energy savings
Besides ensuring a soundproof swimming experience, the PFlow Inverter pump is more energy-efficient, saving the owner up to 80% over a traditional single-speed pump, which means it only takes 1.5 years to redeem the money he invests in the pool pump. Given the average 6 years life expectancy of the pool pump...
Aquagem comparative table of the annual power consumption of the PFlow
and of the single pool pumps