The Pool Water Test kit for professionals: The eXact® iDip® Pool Professional
Connected measuring instruments for this complete pool water test kit
This is a new-generation professional test kit that combines two connected measuring instruments to analyse the water quality parameters of a pool:
The innovative and intelligent eXact® iDip® pool photometer. It includes patented two-way wireless functionality that enables it to connect to any smart iOS or Android compatible device (tablet / smartphone). It is certified NSF/ANSI-50 Level 1. This photometer has the potential to test 40 water parameters (free chlorine (DPD-1), pH, alkalinity, total/combined chlorine (DPD-3), hardness, cyanuric acid, conductivity, TDS, salinity, temperature, etc.).

The new eXact® pH+ Smart Meter system, handheld meter for multi-parameter testing. It uses electrochemical technology combined with Bluetooth connectivity.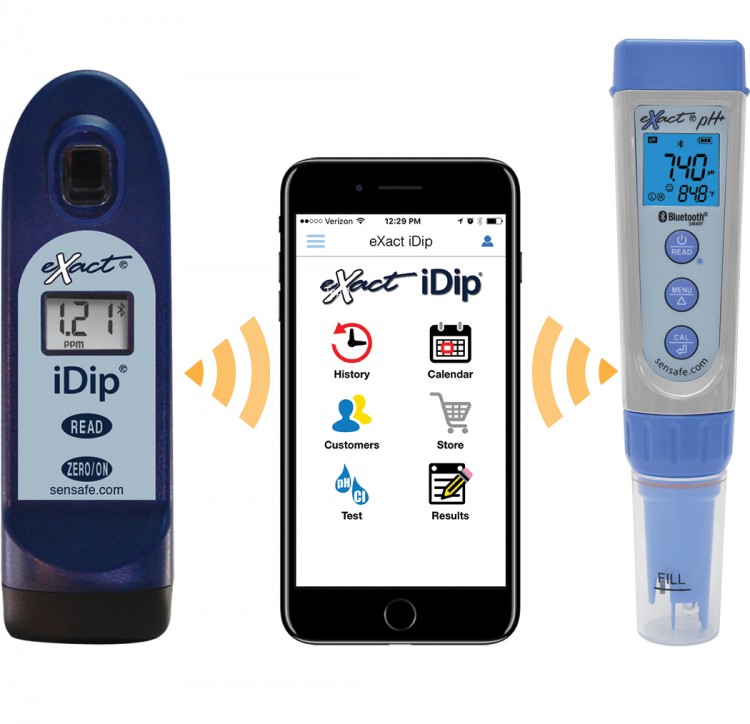 eXact® iDip® pool photometer and pH+ Smart Meter connected to the app
A comprehensive kit to perform water quality pool tests
With the eXact® iDip® Pool Professional kit, the pool professional can perform all the pool's water quality tests and:
Generate comprehensive parameter analysis reports thanks to the eXact iDip mobile app (free download available on Google Store or Apple Store)
Timestamp the analysis
Locate the sites of the pool tests using GPS coordinates
Select customers and test sites
Take photos on site, save them and attach them to the pool water analysis report.
A test kit of the water parameters of the pool connected to the Cloud
The eXact® iDip® Pool Professional kit comes with a Cloud data storage solution. The pool professional, as well as all the technicians in the company in charge of maintenance, can upload all test results to be saved on a single Cloud site. These can be accessed easily from a centralised desktop computer. The data of the pool water quality of all customers is therefore easily accessible by all those concerned.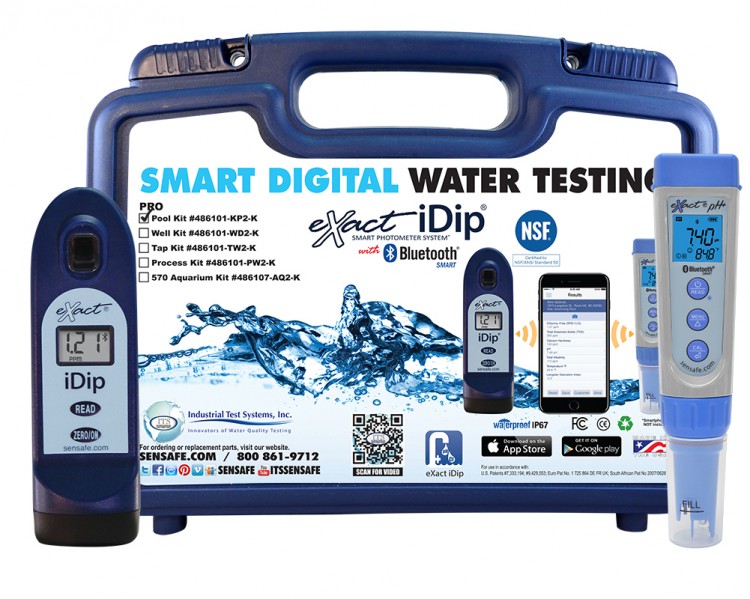 Smart Digital Water Testing - NSF Certified eXact® iDip® Complete Kit
Certified pool water test devices for accurate reading of combined chlorine
The NSF-50 Level 1 certification of eXact® portable photometers: a guarantee for pool operators and professionals
ITS Europe has announced that five of its eXact® portable photometers for swimming pool water analysis, including the eXact® iDip® smart photometer, have obtained the NSF-50 Level 1 certification required by the MAHC.
The MAHC: guarantor of the accurate combined chlorine level in the pool
The Model Aquatic Health Code (MAHC) is a set of US guidelines published by the Centres for Disease Prevention and Control (CDC). These guidelines set the action level for combined pool chlorine at 0.4 ppm. The MAHC requires NSF / ANSI 50 certification for water quality testing devices used in all recreational water facilities, such as swimming pools.
ITS Europe water quality testing devices are NSF / ANSI 50 certified
Pool operators may use NSF/ANSI 50 certified water quality testing devices to accurately determine the level of combined chlorine present in the pool water. These measuring devices carry the NSF mark attesting this certification.
Third-party certification allows manufacturers to guarantee the performance of their pool water tester devices, their accuracy and the operating range of their WQTD (Water Quality Testing Devices).
These certified devices enable precise reading of combined chlorine, with a resolution of +/- 0.01 ppm, to ensure more efficient pool water disinfection.
Certified test equipment is assigned a rating according to three levels of accuracy: L1, L2 or L3. Level 1 (L1) is the highest accuracy rating level. The five eXact® handheld photometers from ITS Europe have been assigned this rating.
EXact® iDip® Smart Photometer